Tsubakimoto Chain (Tianjin) Co., Ltd. Holds Opening Ceremony for New Automotive Parts Plant
2015/06/12
Begins production of automotive engine timing chain drive systems
On June 2, Tsubakimoto Chain (Tianjin) Co., Ltd., a subsidiary of Tsubakimoto Chain Co., held an opening ceremony for its new automotive parts plant, which will manufacture automotive engine timing chain drive systems (commonly know as "timing systems").
The grand opening ceremony was attended by about 130 guests, including Mr. Jiling Hao, Secretary of the Jinghai Development Area; government officials; customers; and individuals involved with the Tsubaki Group. The plant tours and celebrations that followed reflected the participants' wishes for the continued prosperity of the new plant.
This plant becomes the second production base for timing systems in China next to the plant in Shanghai [Tsubakimoto Automotive (Shanghai) Co., Ltd.]. The new plant is designed to achieve high efficiency and high quality standards in order to meet future demand in the rapidly growing Chinese market. Sequential mass production is scheduled to begin in August. Sales growth is planned for local auto makers in the Chinese market in addition to Japanese-affiliated auto makers and those located in Europe and North America.
Notes:
Tsubakimoto Chain established Tsubakimoto Chain (Tianjin) Co., Ltd. in January 2012 to serve as an industrial chain manufacturing subsidiary.
In the Automotive Parts Operations, Tsubakimoto Chain holds the largest share (33%) of the global market for automotive engine timing chain drive systems. In addition to the flagship plant in Saitama, Japan, the company operates plants in the U.S.A, the U.K., Thailand, China, South Korea and Mexico as part of its 7-region strategy. A new plant is planned to open in the Czech Republic in 2017.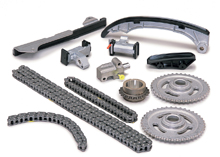 Timing chain drive system components

The new automotive parts plant Opening ceremony
Overview of the Automotive Parts Plant
Location:
No. 3, Road 4, North District, Economic Development Zone of Jinghai, Tianjin, China
Site area:
Land area: 47,000 sq. m., Building area: 15,000 sq. m.
Employees:
58 (Planned employment in 2016: 90)
Concept:
- A core production hub for timing system components for the markets of China and Southeast Asia
- An eco-friendly plant with wastewater treatment and energy-efficient features
Media Contacts
Tsubakimoto Chain Co.
Public Relations Section, Office of the President
Nakanoshima Mitsui Building, 3-3-3, Nakanoshima, Kita-ku, Osaka 530-0005, Japan
Phone: +81-6-6441-0054
Fax: +81-6-6441-0203
E-mail: pr-sec@tsubakimoto.co.jp