Introducing the NER Series Echt-flex Coupling
2016/01/26
A shaft coupling offering exceptional power in a compact design
Tsubakimoto Chain (Headquarters: Osaka, Japan; President: Yasushi Ohara) has introduced the NER Series Echt-Flex Coupling, a disc-type coupling.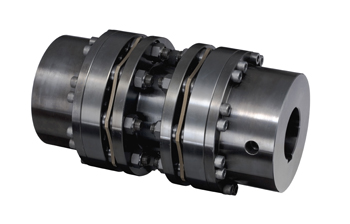 NER Series Echt-Flex Coupling
Echt-Flex disc-type shaft couplings exhibit the outstanding basic characteristics of compact design, high torque, high torsional rigidity and low moment of inertia. We offer a wide selection in this product group, ranging from general-purpose to high-precision models. In our new NER Series, we have achieved both high torque and an unprecedented compact design through our innovative disc and optimized bolt configuration. Moreover, thanks to Tsubaki's use of a new proprietary structure (patent pending) for the center unit, we have dramatically reduced the time required for mounting the coupling.
This eco-product meets customer needs with superior performance, outstanding handling and compliance with the RoHS Directive, the European regulation restricting the use of hazardous substances.

Note: This new product meets our voluntary eco assessment criteria.
Please refer to the video for details of the product structure and assembly method.
Features
Higher torque capacity
Compared to conventional product series, the NER Series handles substantially higher torque (higher kW rating) in a more compact design.
Easier handling
Because the disc spacer is incorporated into an integrated structure (center unit), disc assembly is no longer required.
Installation and removal of this coupling requires only the fixing of the respective bolts on the hubs and center unit. This can be performed in about half the time required for conventional products. What's more, this product is superior to conventional products in that the integrated center unit can accommodate larger shaft bore diameters, eliminating the problem of larger shaft bores resulting in increased coupling sizes.
Non-backlash design and longer service life
Because it eliminates backlash and exhibits high torsional rigidity, this product is suitable for positioning devices incorporating servomotors. What's more, it has no sliding parts, providing long service life with no need for lubrication.
Wide variety of options available
A wide range of mounting flanges can be accommodated thanks to the strong plastic spacer and power lock of the shaft fastening structure.
Environment-friendly
This is an eco-friendly product that complies with the RoHS Directive restricting the use of hazardous substances.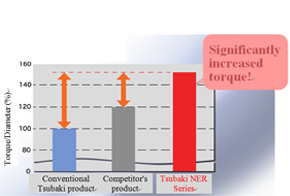 Handles significantly higher torque than conventional products.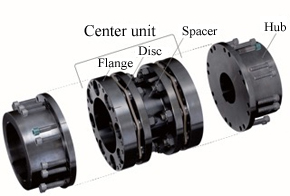 Because the center unit comprises a disc and spacer, these couplings can be mounted in about half the time required by conventional products.
Significantly increased torque!
Applications
Pumps, presses, cooling towers (long spacer type)
Available models
Both spacer and long-spacer models are available in six sizes:
NER59W, NER93W, NER230W, NER360W, NER630W, NER850W
Pricing
¥30,000~¥200,000 (standard-spacer model, with prepared holes)
Delivery terms
Standard-spacer model with prepared holes: 3 days
Long-spacer model: 3 weeks
Release date
January 2016
Sales targets
Initial year (fiscal 2016): ¥84 million
After 3 years (fiscal 2018): ¥240 million