Introducing the compact yet high-capacity Linisort S-C Tilt Tray Sorter
2016/09/13
A multistage structure with a space-saving design requiring only 25 sq. m.
Tsubakimoto Chain Co., Ltd. (President: Yasushi Ohara, Head Office: Kita-ku, Osaka) has developed the Linisort S-C tilt tray sorter, a new model featuring a compact multistage structure designed for exceptional space saving.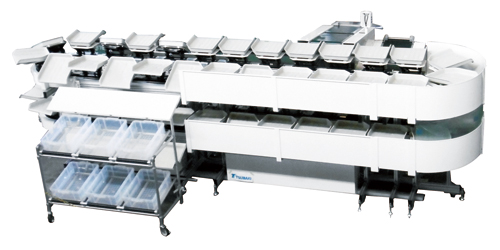 Linisort is our line of high-speed automatic sorting equipment noted for its high-performance sorting capability. It features a non-contact drive with our proprietary high-efficiency linear motor for a clean and quiet work environment. Our product line features five available models ranging from compact to high-capacity models and even a 3-dimensional model. We can suggest the ideal model for your automatic sorting needs, materials handled, and usage environment.
After determining a market need for automatic sorting equipment capable of processing small items within limited warehouse space — a task often performed by hand — we developed a space-saving model suitable for use in the confined space of warehouses, distribution centers, and even meeting rooms. We designed the compact-format Linisort S-C, which features a multistage structure, to provide high-performance sorting capabilities even within a limited installation space.
On September 13, 2016, we participated in Logis-Tech Tokyo 2016, a material-handling and logistics trade exhibition at Tokyo Big Sight, where we will exhibit the Linisort S-C as well as the labor-saving Linisort S-E, which combines automatic sorting with identification by RFID tag and robotic operation for enhanced work efficiency.
Features of the Linisort S-C
Space-saving design
Measuring as small as 3.5 m x 7.2 m (for a 30-shot unit), this compact unit features multistage construction with two stages, an upper and a lower, and requires as little as 25 sq. m. of installation space.
The machine length can be extended to accommodate changing processing volume. The system is also easy to move and install.


Machine length can be adjusted on a unit-by-unit basis to accommodate changing processing volume. This allows for a flexible response with increased processing capacity to meet varying work volume.
Thanks to the unitized structure, all-electric drive can be installed in a short period of time. What's more, the main unit, input conveyors and chutes are all equipped with wheels for easy relocation.

High-capacity sorting
Despite the compact design, this sorter provides ample sorting capacity of up to 6,000 units/h. It provides highly accurate, error-free sorting without depending on the operator's skill level.

Contributes to a quiet working environment
This unit is equipped with a linear motor for a clean and quiet work environment.
Basic Equipment Configuration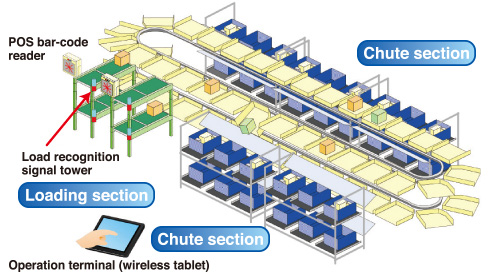 Specifications
Item
Model R300
Model R500
Machine capacity
Single-stage configuration: 3,000 units/h
Two-stage configuration: 6,000 units/h
Single-stage configuration: 2,400 units/h
Two-stage configuration: 4,800units/h
Tray pitch
400mm
500mm
Size of target workpiece
Max: L350mm x W250mm x H50mm
Min: L100mm x W100mm x H10mm
Max: L450mm x W350mm x H150mm
Min: L100mm x W100mm x H10mm
Weight of target workpiece
0.1kg to 2kg
Loading method
Auto loading (conveyor)
Induction quantity
1 to 4
Two-stage configuration: 1 induction = 1 upper and 1 lower induction
Number of chutes
90 chutes/stage max.
(Two-stage configuration: 180 chutes)