Tsubaki provides the best solutions for steelmaking equipment--Applications in the Pig Iron Plant
Steelmaking
Hot Strip & Cold Rolling Mill
Heated metal is put through a rolling mill to create flat bar and rods in the hot strip mill, while in the cold strip mill steel slabs at room temperature are flattened, and their surfaces polished and made even.
Hot Strip Mill --Conveyor Chains/Large Size Conveyor Chain Sprockets
Here, slabs are pulled to make steel strips. The slabs are reheated to 1250°C and rolled while hot. The rolled strip steel is then wound up like a roll of toilet paper (called a "hot coil").
Conveyor Chains for Semi-finished Products
Chains used to convey slabs, billets, and other semi-finished products have to be designed in light of the product's shape and temperature, as well as the conveying environment. Let Tsubaki's extensive track record help find the right specifications for you.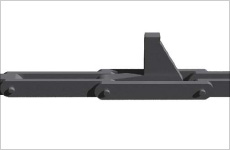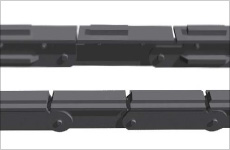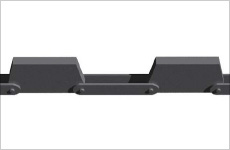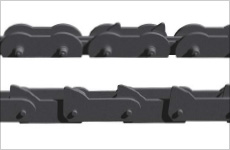 Split Type Smart Replaceable Series Large Size Conveyor Chain Sprockets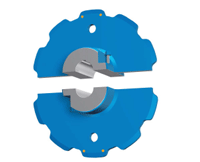 Split Type Smart Replaceable Series Large Size Conveyor Chain Sprockets are sprockets divided into halves through the tooth bottoms.
For areas where mounting or removing sprockets is difficult due to equipment layout, we offer a sprocket that can be replaced without having to remove bearing parts around the shaft. This can help reduce maintenance time and costs.
Rolling Stand -- Large Pin Gear Drive Units
Linear Pin Gear Drive Units can be mounted in two ways, depending on the equipment. Their structure makes it harder for debris to accumulate compared to standard gear racks, even in harsh environments, which can reduce the frequency of malfunctions.
Pickling --Surface Treated Neptune (NEP Series Roller Chain)
The surface scale (iron oxide) formed on hot coils in the hot rolling process is washed off ("pickled") using hydrochloric acid.
Lines subjected to cold water sprays have problems with corrosion. With Surface Treated Neptune, the pins, bushes, and plates have a unique triple layer coating, and the rollers are also specially coated, for added corrosion resistance. Surface Treated Neptune does not use hexavalent chromium, cadmium, mercury, or arsenic and so is RoHS compliant
Cold Rolling --Worm Reducer (Troi Drive & Worm Power Drive)
Here, hot coils are rolled to a usable thickness at room temperature. Coils rolled even thinner during this process are called cold rolled coils.
Zinc Plating --Heavy Duty Roller Chain
Here, iron is dipped into and coated with molten zinc.
The shape and thickness of heavy duty roller chain link plates are larger, allowing for more compact designs, excellent kilowatt ratings, and higher allowable load and tensile strength.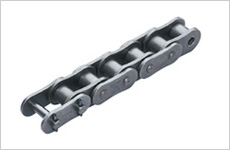 We've adjusted the size of the plate waist to give the chain 30% greater maximum allowable load over standard Roller Chain.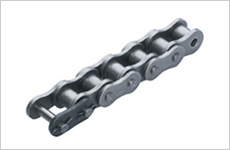 By increasing the thickness of the plate, we've increased this chain's tensile strength by 20% over standard roller chain.
Super-H Chain has the same shape as Super Chain, but with a thicker plate. Ideal for applications requiring a higher allowable load, tensile strength, and shock absorption.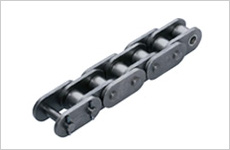 The plates are oval and thicker than Super-H Chain plates for the highest level of allowable load, tensile strength, and shock absorption for more compact designs.