You'll find Tsubaki solutions at work in non-industrial waste processing.
Incineration Equipment
You'll also find Tsubaki products at work in waste treatment plants. Electrical Cylinders and Power Cylinders are used in hoppers and platforms (dumping boxes), Cam Clutch Boxes in forced draft fans, and special Large Size Conveyor Chains in bottom ash conveyors and slag conveyors.

Hoppers and Platforms (Dumping Box) --T Series Power Cylinder
The Tsubaki T Series Power Cylinder is a strong thrust type power cylinder that can be used with AC (alternating current) power. We offer a complete line-up to match any application, thrust, or speed needs. Heat resistant brake motors for high temperature applications are also available.

Benefits of T Series Power Cylinders

All Power Cylinders use a brake motor to provide reliable load support for safe operation.
They provide long life even in high speed/high frequency applications thanks to their high efficiency ball screw.
Forced Draft Fans --Cam Clutch Box
The Cam Clutch is housed in a protective casing for continuous high speed idling operation. For continuous high speed idling operation. Also suitable for energy saving fans and energy recovery pumps.

Sample Layout

Cam Clutch B engages when the main motor drives the fan, while Cam Clutch A idles. The opposite occurs when the steam turbine drives the fan using surplus steam.
Conveyor Chains for Specific Applications
The different equipment in each process at waste treatment facilities all have different features. We looked at the chains used in each process, checked the wear conditions present, and created a chain line-up perfect for each one.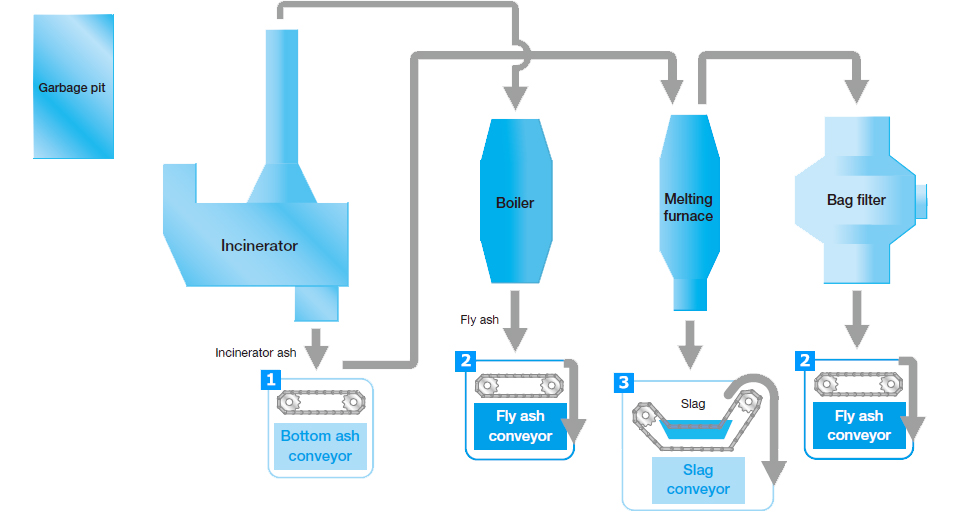 Bottom ash (dry) conveyors/For bottom ash (wet) conveyors
Conveys bottom ash after incineration. Sometimes conveys bottom ash that has been dropped through a water screen to cool.
Fly ash conveyor (general)/Fly ash conveyor (corrosive)
Conveys fly ash (and occasionally treated fly ash) from the incinerator or boiler. Chain is often coated with the substance.
Slag conveyor
Conveys the slag from the slag furnace. Slag will sometimes turn the water highly alkaline or highly acidic.