Power Cylinders and Lifters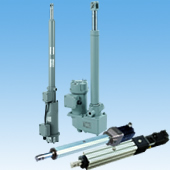 Linear actuators (power cylinders) that can be used with simple wiring.
・Easy handling due to lack of hydraulics and pneumatics
・High performance and reliable operation through the use of a screw and nut mechanism for the cylinder portion
・Built-in safety device for all series. Secure operation even under overload.
・Can be used with servomotors and motors in various standards.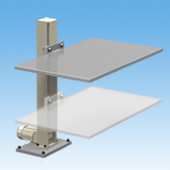 Lift Master is a self-standing type electrical lifter that allows for overhanging and lateral loads.
Four Features of Lift Masters
・Screw and guide mechanism are housed in the frame for a compact design.
・Allows for overhanging loads thanks to its built-in sliding guide
・Uses a brake motor. No power is required to prevent free fall or hold loads.
・Clean, with no oil leakage. Easy maintenance.