This small-sized gear motor series has a motor capacity of 40W-5.5kW.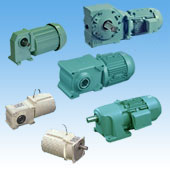 Three gear types are available: helical gear, hypoid gear, and worm gear.
Product News
Flexible for Various Applications
Offers solutions optimized to your applications with overload protection function, pulsation specifications, and so on.
Besides these, industry and application-specialized models are available, including waterproof, heat/cold resistant, and food transfer specifications.
High Grade Quality
Electrostatic Powder Coating (Thinner-Free)
Provides high quality with filter specifications (input oil seal portion) that prevent the intrusion of abrasive powder into the gears that extends the life of the oil seal.
View/Download Data
Catalog/Instruction Manual