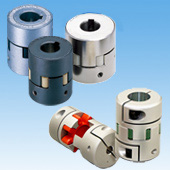 Two lines are available: The L Series is ideal for directly connecting general-use motors under light load. The LN Series is excellent for vibration resistance at servomotor drives and shock absorption during startup and stopping. Both series are simply constructed of two hubs, an insert and a spider, allowing for extremely easy installation and removal.
All models are RoHS compliant.
Ultimate line of the high-quality Oldham Couplings that offer a long service life This high-precision, flexible coupling has large allowable parallel eccentricity and excellent durability.
All models are RoHS compliant.
Special synthetic rubber with a unique configuration is compressed and press fitted into the flange, making this flexible coupling highly durable.