Business Overview
CHAIN OPERATIONS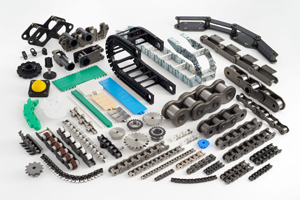 Tsubaki's Chain Operations offers a diverse line of power transmission and conveyor chains as well as customized chain products for a wide range of businesses, including the machine tool, shipbuilding, steel, food, LCD and semiconductor industries.
Drive Chains
RS Roller Chain, Lambda® Roller Chain, Low Noise Roller Chain, High-Tech Corrosion-Resistant Chain
Conveyor Chains
Conveyor Chain, Attachment Chain, Top Chain (steel, plastic), Free-Flow Chain, Module Conveyor Belt, Sprocket
Cable and Hose Protection and Guidance Products
Steel Cableveyor, Plastic Cableveyor
POWER TRANSMISSION UNITS AND COMPONENTS OPERATIONS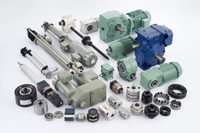 Tsubaki's Power Transmission Units and Components Operations supplies gear reducers, linear actuators, and other machine parts for motion and control needs as well as optimal power transmission equipment incorporating composite technologies.
Reducers and Variable Speed Drives
Gear Motor / Hypoid Motor, Croise Motor / Emerworm, Helical Power Drive, Troi Drive, DISCO Variable Speed Drive
Motion Control Units
Power Cylinder, Lini Power Jack, Shock Damper
Clutches / Couplings / Torque Limiters
Power Lock, Flexible Coupling, Rigid Coupling, Cam Clutch, Torque Limiter/Torq Guard, Shock Relay/Shock Monitor, Sprockets
AUTOMOTIVE PARTS OPERATIONS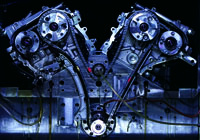 Tsubaki's Automotive Parts Operations features an extensive production system encompassing 12 plants in 8 countries, all centered on our mother plant in Saitama. These plants have captured the world-leading market share by providing automotive manufacturers around the world with timing chain systems that contribute to high-performing, lightweight, and eco-friendly automotive engines and power transmission parts for vehicle powertrains.
The Company's EneDrive Chain takes advantage of many years of traditional automotive timing chain drive system development to support the next generation of eco-friendly cars.
Automotive Timing chain Systems
Timing Chain (Roller Chain, Silent Chain), Tensioner, Lever / Guide / Sprocket, Timing Belt / Pulley, Auto Tensioner
General Industrial
Timing Belts, JIS Timing Belt, Ultra PX Belt, Urethane Timing Belt, Long Belt, Flexible 530 Belt, Pulley / Lock Pulley
MATERIALS HANDLING SYSTEMS OPERATIONS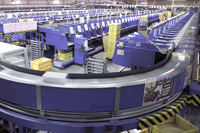 Whether it involves conveying, sorting, or storage systems,Tsubaki's materials handling business excels at managing the flow of materials and information, offering sophisticated solutions that contribute to enhanced customer productivity. Since the construction of our Saitama Plant in 1962, we have focused on developing groundbreaking products for a wide range of industries, including automotive manufacturing, logistics, and the life sciences.
Tsubaki is proud to serve the world with an ever-expanding line of innovative products.
Sorting Systems
LiniSort / NaviSort / MailSort, FashionSort / Multi-Sorter
Conveyance Systems
Autran / Autran Vanguard, AGV / ADS (Auto Dolly Super), Free Curve / New Traverser, Hybrid Traverser, Minomi Conveyor
Storage and Picking Systems
Pack-U-Veyor / Power Column, Labo Stocker, Space Freezer
Other Systems
Factory Automation (FA) Systems, Bulk Handling Systems, Scrap Metal Conveyance, Coolant Processing Equipment, Equipment Monitoring Systems, Maintenance Service
NEW BUSINESSES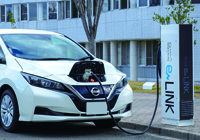 Tsubaki's new business projects include a V2X-compatible virtual power plant / EV charging station that can be used as a virtual power plant resource or an emergency power supply in the event of power failure, as well as innovative and efficient agribusiness plant factories and an IoT-based remote monitoring platform. Clearly, Tsubaki delivers outstanding innovations that contribute to a better future. We continue to develop optimal solutions that extend beyond the manufacturing sector.