Work Uniforms Revamped for the First Time in 50 Years
2017/05/31
A new design with improved safety, functionality, and comfort for the 100th anniversary of our foundation
The work uniforms have been revamped on the occasion of the 100th anniversary of the founding of Tsubakimoto Chain Co. (President: Yasushi Ohara; Head Office: Kita-ku, Osaka). It is the first time in 50 years that the entire clothing style has changed. The same design has been adopted for the uniforms used by office workers. The employees will start wearing the new work uniforms from November 1. The work clothes will also be gradually introduced at our Group companies in Japan.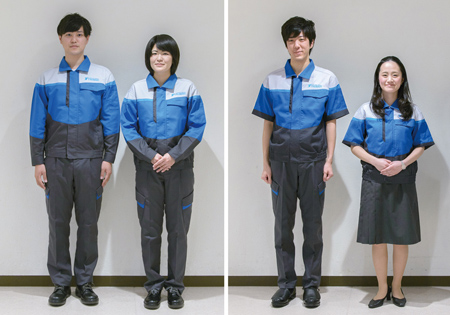 | | |
| --- | --- |
| Jacket style (worn year-round except during the summer) | Short-sleeve style (summer wear) |
The uniforms' safety, functionality, and comfort have been greatly improved with the introduction of the new collection.
(1) Safety: The company's corporate color (blue) was predominantly used to create a gradation pattern, and bright gray was used for the chest area and up. The design makes the uniform easy to notice, even in dark areas among machinery and equipment. Moreover, top-quality self-extinguishing fireproof fabric was used for the work uniforms worn by employees working on the heat treatment processing lines. In case of emergency, safety is ensured by preventing fire from spreading.
(2) Functionality: The uniforms were designed using 3D measurement data and proprietary cutting techniques based on "three-dimensional structures" in which clothing anatomy theories is introduced. Moreover, the highly stretchable fabric facilitates movements of the arms as well as bending. The trousers feature high-storage-capacity double cargo pockets that have been designed to prevent wallets and other items from easily being dropped.
(3) Comfort: A breathable fabric with excellent sweat-absorbing and quick-drying characteristics was used for the summer clothes. A section on the back is made of mesh fabric to help keep workers cool. A vest was also produced as part of the lineup to keep warm in cold environments. Female employees can choose to either wear trousers or a skirt according to the operations they have to perform.
[Supplement]
New work uniforms announced at the 100th Anniversary Commemorative Ceremony!
Two private ceremonies—one for East Japan and one for West Japan—were held to commemorate the 100th anniversary of our foundation. The new work uniforms were announced as part of the ceremonies' program.
A total of eight male and female employees served as models to introduce the features of the collection at both ceremonies. The models planned the poses and choreography which brought a lot of excitement to the floor.