Introducing Tsubaki's Smart Conveyor Chain™ - Advanced Models of Corrosion-Resistant Large Conveyor Chains
2017/09/29
100th Anniversary Models of Tsubaki's Smart Conveyor Chain™
Introducing New Advanced Models of Corrosion Resistant Large Conveyor Chains in GSA & SSA Specifications
On October 1, Tsubakimoto Chain Co., Ltd. (President: Yasushi Ohara; Headquarters: Kita-ku, Osaka) introduced two high-performance Advanced Models of its Large Conveyor Chain (GSA specification and SSA specification) product line. These models offer improved wear resistance and increased allowable load.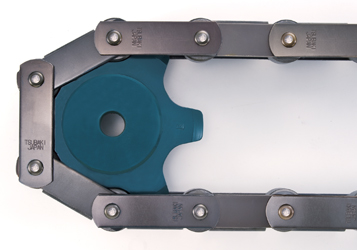 Corrosion resistant large conveyor chain in GSA Specification
(Supports a variety of sprockets.)
Corrosion resistant Advanced Models
Our conventional Large Conveyor Chain product line is available in 12 models that combine various materials and heat treatments. To mark Tsubaki's centennial, we decided to revamp our product categories to make it easier for customers to navigate the available product choices. As a result, new products have been introduced in three product categories under the umbrella term "Smart Conveyor Chain"*: four Basic Models and their derivatives; Industry-specific Models; and Function-specific Models. Then, on June 1, we introduced Advanced Models of both our general-purpose and rugged types. At the same time, we have changed the selection method to permit selection of "allowable load," as is the case with our other chains. In this, the second phase of our product launch, we are introducing Advanced Models of our corrosion resistant GSA specification and SSA specification.

Note: This new product meets our voluntary eco assessment criteria.
Large Conveyor Chain Products
1. Basic Models
Advanced Models
General-purpose type
DT specification
DTA specification
Avail. June 1
Rugged type
AT specification
ATA specification
Avail. June 1
Corrosion resistant
GS specification
GSA specification
Avail. Oct. 1
Corrosion resistant
SS specification
SSA specification
Avail. Oct. 1
2. Industry-specific Models
3. Function-specific Models
* The product concept is to "provide customers with solutions through elemental and applied technologies" and to "allow customers to optimally select and use high-quality chains."
Conveyor Chain, GSA Specification
Features
The Advanced Model of the GS specification, this conveyor chain incorporates general-purpose stainless steel. The components of this chain undergo special heat treatment; as a result, they compare favorably with the GS specification, offering 2 times the wear resistance between the bushings and rollers, 1.5 times longer wear elongation life, and 1.3 times greater maximum allowable tension.

Target size
7 sizes (RF03–RF26-tons)
Price
Price quoted when order placed
Lead time
About 6 weeks (with standard attachments)
Sales forecast
¥2 million/month
Applications
For high-load and corrosive environments such as industrial waste conveyance and food transport with bucket elevators
Conveyor Chain, SSA Specification
Features
The Advanced Model of the SS specification, this conveyor chain incorporates high-performance stainless steel suitable for high-temperature and chemical environments. It features some components made with improved materials that do not impair the corrosion resistance of the SS specification; it also features 1.5 times greater wear resistance between the bushing and roller and 1.3 times greater maximum allowable load for R rollers and F rollers.

Target size
7 sizes (RF03–RF26-tons)
Price
Price quoted when order placed
Lead time
About 1 month (differs by size and attachments)
Sales forecast
¥2 million/month
Applications
For the clean environments required for food conveyance and for chemical environments and other environments requiring corrosion resistance such as washing lines