Introducing the Centennial Model LiniSpeed Jack
2018/1/10
An Innovative High-speed, High-frequency Jack Featuring a Low Floor
In January 2018, Tsubakimoto Chain Co., Ltd. (President: Yasushi Ohara; Headquarters: Kita-ku, Osaka) introduced its Centennial Model LiniSpeed Jack, a high-speed, high-frequency-operation linear actuator with a maximum speed of 200 mm/s. This revolutionary device has an innovative low floor and features a compact design.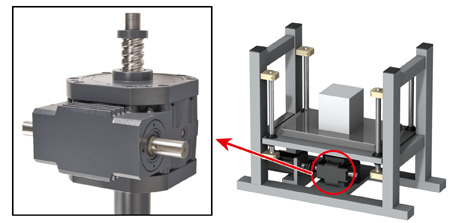 LiniSpeed Jack
Jacks — linear actuators combining a screw thread and a worm gear — have been adopted in various types of equipment mainly to handle loads with a low driving frequency. In recent years, the servo motors used in the drives of IT-related manufacturing equipment and automobile production lines have become increasingly sophisticated. At the same time, demand has been growing for jacks compatible with servo drives offering high-speed and high-frequency operation. However, conventional jacks are poorly suited to high-speed/high-frequency operation and cannot keep pace with the improved productivity of these equipment.
The new LiniSpeed Jack surpasses conventional jacks in its capacity to combine high-speed operation with a compact design. In addition, the innovative structure results in an exceptionally low floor height compared with conventional jacks. And by reducing the equipment height, this new product helps customers save space.
In the high-speed realm, the customer can use the LiniSpeed Jack to design and fabricate a linear motion mechanism incorporating both a ball screw and rack. The result is both compact and easy to construct.

Note: This new product meets our voluntary eco assessment criteria.
Features
Capable of High-speed Operation

The LiniSpeed Jack achieves a maximum operating speed of 200 mm/s. It can therefore accommodate high-speed applications beyond the scope of conventional jacks (typically 120 mm/s). And despite the increased speed, this jack is even more compact than conventional jacks.
Low-floor Design

The LiniSpeed Jack features a low floor thanks to an innovative structure that integrates the ball nut within the gear. Because conventional jacks are designed with the ball nut mounted on the gear, the LiniSpeed Jack is even more compact and has a 47% lower floor height (selectable size) than is available with a conventional jack. This also contributes to the compact design.
High-frequency Operation
The LiniSpeed Jack achieves the maximum of 100% ED for allowable load time ratio (percentage of running time withAxia Motorin a specific operation cycle). Considering that conventional jacks have an upper limit of 30% ED, this represents a dramatic improvement in the percentage of screw running time in the driving cycle. The combination of both high-speed operation and high-frequency operation makes it possible to increase the frequency at least five-fold compared with a conventional jack used under the same operating conditions.
Reduced Cost
Because the jack can be used in line with servo motor's rated rotation speed of 3000 rpm, compact motor frames and couplings can be used, which contributes to a drive unit that is both more compact and lower in cost.
Applications
Lifting device, extrusion equipment and other devices requiring increased productivity and small footprint
Available models
SJ030H (30 kN allowable thrust) & SJ050H (50 kN allowable thrust)
Accommodates strokes from 100 mm to 1500 mm.
Lead time
Two weeks for standard products
Sales forecast
FYE 2019: 120 million yen
FYE 2021: 300 million yen
Release date
January 2018