Introducing the Operation Monitoring Package for the MitaMon Starter Kit
2018/3/29
The Remote Monitoring Platform for the IoT
On April 1, 2018, Tsubakimoto Chain Co., Ltd. (President: Yasushi Ohara, Headquarters: Kita-ku, Osaka) introduced the Operation Monitoring Package for the MitaMon Starter Kit, a user-friendly product for introducing an Internet of Things (IoT) system that requires no modifications to existing facilities.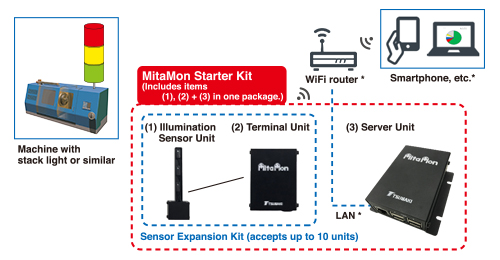 *WiFi router, cable, smartphone, computer are not included in this kit.
*Also accepts a wired LAN connection between the WiFi router and Server Unit.
An increasing number of companies are eager to improve their productivity by introducing the IoT as a means of visualizing, recording, and managing operational data at the manufacturing site. In October 2016, we introduced our IoT-compatible MitaMon Remote Monitoring Software. Typically, manufacturers seeking to introduce an IoT system must become adept at a wide range of complex tasks such as network maintenance, development of monitoring software, installation of data transmission equipment, and selection and installation of sensors. The challenge of acquiring these specialized skillsets can present a major obstacle.
To overcome this challenge, we now offer the Operation Monitoring Package for the MitaMon Starter Kit as a comprehensive solution to these complex tasks. The package includes all the components needed to visualize the operating status of a manufacturing site. Simply open the box and within 30 minutes the convenience of the IoT is yours. Thanks to the simplicity of this kit, manufacturers can easily implement a fully capable IoT system.
Our company focuses on the stack lights (signal towers) commonly mounted on various types of machinery and equipment. Our system uses WiFi to transmit the state of illumination (off/on/flashing) of the various individual lamps of the stack light, as detected by the Illumination Sensor Unit, from the Terminal Unit to the Server Unit. Operators can thus monitor the operating status from almost anywhere by accessing the Server Unit via a web browser (on a smartphone, computer, or similar device).
We are currently developing additional products that will offer an even wider range of applications in the future.
Features
Easy Installation
<Typical installation>

Install simply by mounting the Illumination Sensor Unit on the stack light with the mounting strap provided. As no complicated installation work is needed, the sensor can be retrofitted to existing equipment with ease.
WiFi-capable; no wiring required

<Screen display as it appears in browser>
Using data received from the Illumination Sensor Unit, the Terminal Unit determines when a stack light is illuminated or flashing and issues an alert to the Server Unit. Because this data is transmitted over the network via WiFi, no additional wiring needs to be installed at the manufacturing site.
Note: Existing WiFi configurations might require an upgrade for compatibility with this system.
Monitoring software (with web server function) is compatible with standard implementations
The Server Unit acquires the illuminated/flashing status of individual lamps in a stack light and displays the operating status in the browser of a monitoring terminal such as a smartphone or computer.
The system is also capable of compiling operational data over time for output to a CSV file.
Email notifications
The system can be configured to send email notifications whenever an alert is issued related to an equipment stoppage or the like. Operators are provided with essential information without delay, no matter where they are located.
Easily scalable
A single Server Unit accommodates up to 10 units.
Note: Requires Expansion Sensor Kit (comprising (1) Illumination Sensor Unit and (2) Terminal Unit).
Applications
Monitoring the operating status of facilities, machinery and equipment with stack lights, and compiling relevant data for later retrieval
Lead time
Two weeks after receipt of order
Sales forecast
FYE 2019: ¥120 million
FYE 2021: ¥300 million
Release date
April 1, 2018
Suggested retail price
Starter Kit: ¥298,000 (excluding tax)
Expansion Sensor Kit: ¥98,000 (excluding tax)