Introducing the LiniSort S-C ∞ Sorter
2018/09/10
Supporting the introduction of unmanned sorting and shipping operations at distribution centers
High-efficiency sorting with a space-saving, multi-stage spiral structure
Tsubakimoto Chain Co., Ltd. (President: Yasushi Ohara, Headquaters: Kita-ku, Osaka) has developed the LiniSort S-C ∞, a new model in the LiniSort™ line of tilt-tray sorters. This model conveys trays in a spiral configuration for greater space saving and highly efficient sorting.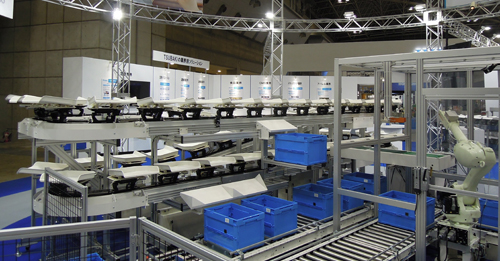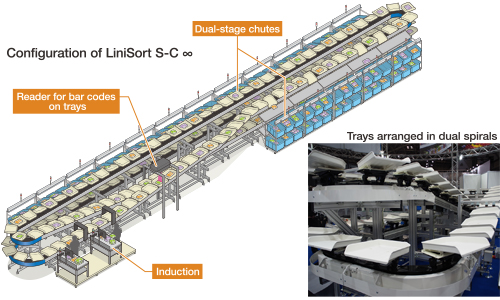 LiniSort is our line of high-speed automatic sorters offering high performance. It features Tsubaki's highly efficient linear motor, a noncontact drive system that contributes to a clean and quiet working environment. Tsubaki can suggest the ideal automatic sorting system for your usage environment, products handled, and unique needs, from bulk sorting to limited installation space.
We developed our new LiniSort S-C ∞ to provide automatic equipment for sorting small items in a limited space, a task that is typically done by hand. The LiniSort S-C (a compact model released in 2016) features dual-stage construction arranged in a spiral configuration in order to utilize the advantages of both single- and dual-stage models. As a result, since the sorting chutes can be arranged in two stages with the same processing capacities, the space requirements are reduced by about 30% compared with a compact single-stage model.
In addition, when the compact-type LiniSort S-C is used in a two-stage configuration, the worker needs to input products with attention to the upper and lower rows. With the LiniSort SC ∞, however, sorting is carried out in a single loop with a two-stage structure. This enables work to be completed simply by placing the items on the trays in order. This contributes to simple and efficient sorting work.
We can design unmanned systems to handle internal work at a distribution center — from loading products to sorting and conveyance toward the shipping area — by combining the LiniSort S-C ∞ with a robot made by Mujin Corporation. We will be exhibiting at the International Logistics Exhibition taking place at Tokyo Big Sight beginning September 11, 2018.
Please visit us for a demonstration of this unit.
Features
Multistage structure contributes to efficient use of space (Accommodates even 3 and 4 stages.):
The spiral arrangement of sorters and multi-stage sorting chutes results in space saving and higher efficiency. It is also possible to configure up to four stages for even more effective space saving. Note: Requires about 30% less space compared with a compact single-stage type of the same processing capacity.
High-capacity sorting:
With a machine capacity of 4,000 pcs/h, the LiniSort S-C ∞ achieves reliable high-accuracy and error-free sorting without having to determine the upper and lower stages as with the compact dual-stage LiniSort S-C.
Quiet work environment:
The linear motor contributes to a clean and quiet work environment.
Functions can be expanded to accommodate various applications:
Simply installing the T-TrayReader automatic RFID tag reader and bar code reader for tray sorters results in more efficient loading of work pieces and reduced facility costs.
Accommodates fully automated (unmanned) operation:
When coupled to a robot, the LiniSort S-C ∞ can provide a completely automated (unmanned) system from products loading to packing and shipping.
Applications
Sorting of daily necessities, cosmetics, clothing items, etc.
Device configuration (our standard layout and configuration)
LiniSort S-C ∞
LiniSort S-C
Compact type, 500-mm pitch, single-stage configuration
LiniSort S-C
Compact type 500-mm pitch, dual-stage configuration
Machine capacity
4,000 pcs/hour
2,400 pcs/hour
4,800 pcs/hour
Tray pitch
600 mm
500 mm
500 mm
Size of target item
Max: 450 L x 350 W x 150 H mm Min: 100 L x 100 W x 10 H mm
Weight of target item
0.1–2.0 kg/pc
Number of chutes
100
50
100
Reference: Illustration of distribution center with unmanned system