Tsubaki's upgraded eLINK is now a V2X-compatible virtual power plant / EV charging station
2019/03/05
Smoothly Connecting EV and PHEV with a Network of Power and Information
Can be used as a virtual power plant (VPP) resource or an emergency power supply in the event of power failure
Tsubakimoto Chain Co. (President: Yasushi Ohara, Headquarters: Kita-ku, Osaka) has upgraded the Tsubaki eLINK, a vehicle-to-everything (V2X) compatible, vehicle-to-grid (V2G) / electric vehicle supply equipment (EVSE) charge point device that bi-directionally connects electric vehicles (EVs, including PHEVs (plug-in hybrid vehicles), hereafter collectively called "EV") with the power grids of public facilities, buildings, factories, and other facilities via a quick charging connector for EVs electric vehicles, and can also be used as a virtual power plant (VPP) to supply power from the EV battery back to an electric grid.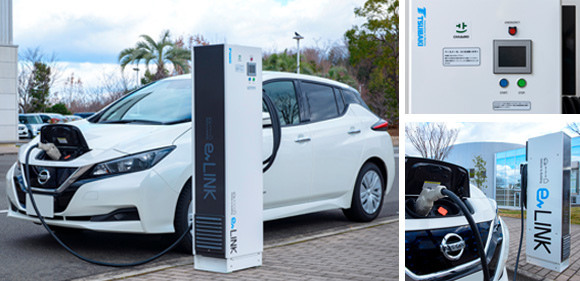 The Tsubaki eLINK, originally released in 2013, has been utilized mainly at public facilities as a combination vehicle-to-building (V2B)-compatible power supply and EV charging station used for emergency power supply in the event of a power outage and to reduce regular power consumption when electrical demands are at their highest (peak hours).
This new eLINK model functions as a SiC-based bi-directional inverter for power conversion from EVs. In addition, it has improved outdoor visibility and user-friendliness thanks to the design innovation of the main unit and touch screen. This V2X-compliant product for business applications integrates the company's experience and technology, including years of connection records from the energy management systems of buildings, and participation in Japan's first demonstration of the use of EVs as a VPP source.
*V2X = Vehicle-to-Everything, the complementary power supply among vehicles with rechargeable batteries, homes (V2H), buildings (V2B), and power grids (V2G), etc.
*SiC = Employs silicon-carbide (SiC) power semiconductors, a next-generation power element that allows for downsizing, reduced power consumption, and high efficiency.

Note: This new product meets our voluntary eco assessment criteria.
Features
This new model can utilize EVs as a VPP resource to adjust power supply, and regulate the power supply, with a high degree of responsiveness and precision.
This new model is now compatible with the ECHONET Lite communication interface. In addition, it will also support (planned) the Modbus TCP for industrial applications, which can enable monitoring (visualization) and remote control.
This new model can integrate IoT gateways, power meters, card readers, and others based on applicable systems.
User authentication can be performed on the touch screen (*optional).
Specifications
Power supply

Voltage: Single-phase, three-wire 202 VAC, Frequency: 50/60 Hz
Output: 5 kW (with power factor of 1.0)
*Cutoff from system when used as an emergency power supply

Charging

Battery voltage: 150 to 450 VDC
Output: 4.5 kW (DC)

Communication

ECHONET Lite, Modbus TCP (planned), etc.

Outer dimensions
Unit mass
Others

Certified according to V2H Guideline 2.1 and ECHONET Lite
Main V2X-compatible vehicles: LEAF e+, LEAF (Nissan Motor Co., Ltd.), Outlander PHEV, and i-MiEV (Mitsubishi Motors Corporation)
*Connectivity with each car type is currently being confirmed.
* ECHONET Lite is a communication protocol designed to enable "smart devices" to interconnect with other devices in a "smart home" for benefits that include efficient energy management. It is a trademark of the ECHONET Consortium.
* Modbus, LEAF e+, LEAF, Outlander, and i-MiEV are trademarks or registered trademarks of their respective manufacturers.
Applications
Power adjustment by using the EV's high-capacity battery as a virtual power plant (VPP) and peak-hour usage reduction resource
Emergency power supply in the event of a power outage by utilizing the power stored in an EV's battery
Successful Applications
Used in the V2G Aggregator Project demonstration
Lead time / Price
Available upon inquiry