Autran Vanguard Mark II excels as a ceiling-mounted conveyance system
2019/7/30
Easy Operation and Maintenance Combined with Fast Installation and High Efficiency
Tsubakimoto Chain Co. (President: Yasushi Ohara, Headquarters: Kita-ku, Osaka) has introduced a new model of the Autran Vanguard, its ceiling-mounted monorail conveyance system. The new Mark II, scheduled for release on August 1, offers quick installation, highly efficient conveyance, and wireless LAN connectivity.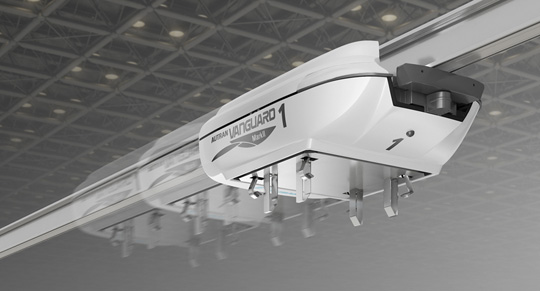 The Autran Vanguard, an overhead conveyance system mounted on a monorail track, was originally developed by the company in 1994. Designed to make effective use of unused ceiling space, this system is flexible enough to accommodate layouts connecting stations along the shortest routes for high-speed conveyance. This product offers a solution to inter-process conveyance problems and is applicable to a wide variety of industries, including distribution centers and production lines for LCDs, semiconductors, and foodstuffs.
Our new Autran Vanguard Mark II employs a simple structure based on a modular design that enables quicker installation compared with the previous model. In addition, improvements to the frame of the conveyance vehicle contribute to easier installation and maintenance, rapid deployment following installation, and a cost about 15 to 20% lower than that of the previous model. Furthermore, wireless LAN connectivity results in continuous communication and the ability to change course and vary the speed during operation. Operating conditions can be monitored on a tablet, which also provides the capability for system shutdown and predictive maintenance.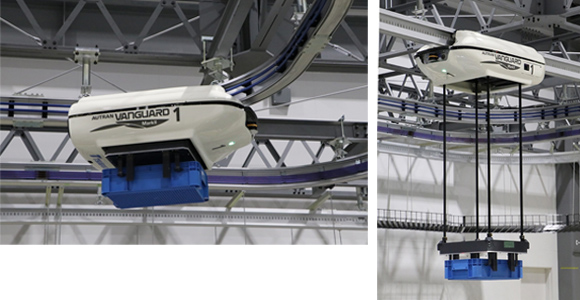 The high efficiency of this conveyance system allows for a shorter construction period and a reduction in the number of vehicles in use, reducing costs while contributing to customer environmental requirements.
This product, as well as a mini demo of the Linisort S-C automatic sorting device, will be on display at Food Distribution 2019, an exhibition to be held at Tokyo Big Sight beginning September 11, 2019.

Note: This new product meets our voluntary eco assessment criteria.
Features
Fast installation
The modular design significantly reduces wiring, eliminates sensors, simplifies transfer adjustments, and greatly reduces the amount of work performed at height. Installation time has been reduced by about 25% compared with the previous model.
Visual-oriented operating system for high-efficiency transportation
The combination of a wireless LAN connectivity, barcode identification, and the visual-oriented operating system makes it possible to monitor the status of individual conveyance vehicles from the ground in real time. As a result, conveyance vehicles can be deployed efficiently and effectively for highly efficient optimized transportation.
Easy operation and maintenance
All relevant information is accessible from a tablet. Wireless LAN connectivity also supports IoT applications. The tablet can be used to run teaching tools and monitoring tools and the like while providing support for predictive maintenance and system shutdowns.
Available as single or multiple units
Thanks to the optimized modularization, conveyance vehicles and rails can be sold as single units or as multiple units. (The new Mark II vehicles are backwards-compatible with existing lines.)
Specifications
Conveyance vehicle specifications
Payload
30kg
50kg
70kg
Max. traveling speed
220 m/min
200 m/min
120 m/min
Max. lift speed
70 m/min
50 m/min
30 m/min
Max. lift stroke
4,000 mm
Vehicle dimensions
W 730 x L 1,110 x H 400 mm
Available in any of 9 body colors
Control method, power supply methods, device connectivity
Control method
Self-driving
Power supply
Non-contact power supply, trolley power supply
Position recognition method
Optical linear distance sensor
Barcode label
Device connectivity
Wireless LAN (2.4 GHz WiFi)
Applications
Distribution centers and production lines for LCDs, semiconductors, automobiles, foodstuffs, and other products
Lead time
Made to order
Sales price
Quoted at time of order
Sales forecast
FY 2019: 40 units
FY 2021: 80 units (Based on number of conveyance vehicles sold)
Release date
August 1, 2019