Tsubaki's Eco & Eco

Eco & Eco (Ecology & Economy)
By providing customers with eco-products, Tsubaki's Eco & Eco (Ecology & Economy) approach is focused on pursuing economic advantages such as cost benefits for our customers in addition to reducing environmental impacts. In addition to promoting environmentally friendly operations alongside our customers through environmentally friendly products, we also contribute to our customers' profitability.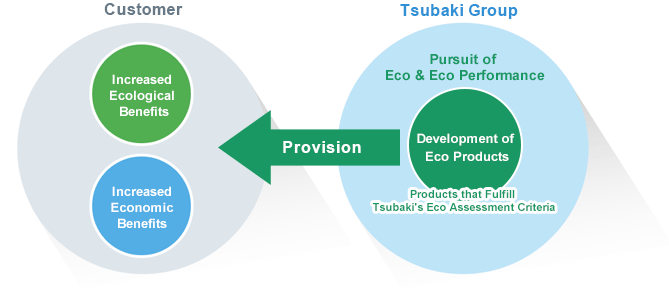 Tsubaki's environmentally friendly eco-products help our customers reduce their environmental impact, streamline manufacturing processes, and improve quality. By incorporating Tsubaki eco-products into their own products, customers can increase their value as added value products, and enjoy increased business opportunities.
Benefits of employing eco-products:
Improved profitability through compact design of equipment and products
Improvement of maintenance efficiency and reduction of total costs through extended service life
Reduction of disposal costs through promotion of reuse and recycling

The expansion of our range of eco-products is a large component of the foundations of environmental management at the Tsubaki Group. To fulfill this objective, we are working to reduce product size by implementing performance enhancements and reduce waste by lengthening service life.
Key issues in eco-product development:
Pursuing eco design and reducing environmental impact of procured items
Creating logical environmental initiatives through the introduction of LCA* method and other measures
Creating an environmentally friendly image based on eco-products
*Life cycle assessment