Shareholders & Investors
In addition to aiming for maximum shareholder value and stable distribution of profits through steady growth, the Tsubaki Group values dialog with shareholders and investors.
Basic policy
The Tsubaki Group aims to achieve our basic management policy of creating value for our customers and contributing to society. To accomplish this aim and achieve sustained growth, it is essential that we deepen mutual understanding between our senior management team and employees and shareholders and investors in order to create strong bonds of trust. From this perspective, we work to practice sincere and transparent management that is flexible enough to incorporate outside opinions. To realize this type of management, we aim to improve the quality and frequency of information transmission and communication.
General Shareholders' Meeting
Our general meeting of shareholders is not merely a forum for the unilateral release of information. We regard these meetings as a great opportunity for reciprocal communication. For this reason, we notify shareholders of the general meeting well in advance so they have plenty of time to consider the proposals to be voted on, and we choose the meeting venue with shareholders' convenience in mind. Panel discussions are held after the conclusion of meetings so that opinions may be exchanged between company officers and shareholders. Moreover, we set up a display that introduces the group's products at the venue and take other steps to foster a deeper understanding of the company's manufacturing endeavors.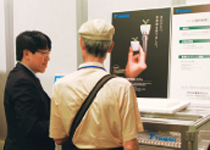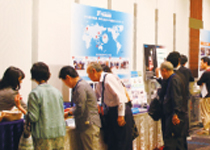 Investor relations activities
Presentations for institutional investors and securities analysts are held twice a year following half-yearly and yearly closing of accounts, and the materials used in these presentations are uploaded to the company's website. Further, financial statements, news releases, and other materials that contain information crucial to making investment decisions are also disclosed on the company's website in a timely and fair manner. Previously, Such materials, long made available in Japanese and English, are now released in Chinese as well, for broader information disclosure.