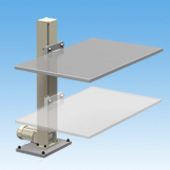 They contribute to drastically reduce manpower and time for design, assembly, and installation by customer.
The arm case can be mounted freely to adapt to a wide range of applications available to meet customer needs.
LIFT MASTER -- Features and Structure -- Movie
Benefits of adopting Lift Masters
Product Lineup
Product Types / Features
Suitable for high frequency operations, such as on assembly lines.

For high-speed, high-frequency operations

Suitable for maintenance applications and other low frequency operations.