Realizes an innovative table lifter thanks to its high-speed lifting.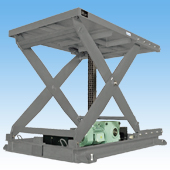 The Zip Chain Lifter directly transmits lifting thrust through Zip Chains.
Operates 3 to 10 times faster than hydraulic lifters. Supports high-frequency operation, which provides a maximum of 50% energy savings.
A 1,000kg type was added to our line-up of standardized products on April 1, 2019.
Features of Zip Chain Lifter
Speed

Achieves high-speed operation at a maximum lifting speed of 100m/min. This lifter works through a mechanism that directly pushes up the lift table at a stable speed in proportion to motor rpm, enabling lifting operation at a constant speed. Synchronized operation of multiple lifters is also possible.

Zip Chain Lifter

It maintains a stable speed through the entire stroke range.

Hydraulic Lifter

The speed varies throughout the stroke. It slows down in the middle.

High-frequency operation

Unlike with hydraulic lifters, the Zip Chain Lifter does not need to increase the tank capacity of hydraulic units for higher-frequency operation.

Supports high-speed operation such as continuous lifting at a rate of one lift cycle per minute thanks to its efficient operation.

Stopping accuracy

Easily realizes multi-point stopping/multi-level positioning thanks to its simple control structure.

Expected life

The Zip Chain Lifter has a mechanism that directly pushes the lift table, which places a smaller load on the hinges/rollers and enables longer life (over one million strokes).
Zip Chain Lifter - Video
Check out the live-action movie of Zip Chain Lifter operation.
Movement of lifter and drive section
Engagement of Zip Chains and sprockets
Reference Number System
| | | | | | | | |
| --- | --- | --- | --- | --- | --- | --- | --- |
| ZSL | 1000 | S | 10 | G | 1 | - | J |
| Series name | Allowable lifting weight | Speed code | Stroke | Drive style | Number of pantograph stages | | Option |
Number of pantograph stages
1000
1,000kg
0050
50kg
Speed code
S
~6m/min
L
6 to 12m/min
M
12 to 30m/min
H
30 to 60m/min
U
60m/min~
Drive style
G
Three-phase motor
K
Servomotor
X
Others
Number of pantograph stages
1
Single stage
2
Dual stage
Option
J
Full-faced bellows
T
Tap washer
(Available for 1,000kg type)
The tap washer will be used when the tap hole for fixing is required on the table surface. Specify mounting locations separately if you need it.
Available Zip Chain Lifter Range
Allowable loading weight and lifting stroke

Consider using our standard products for 1,000/50kg type of allowable lifting weight.
Product Lineup
Product Types / Features
The 1,000kg allowable lifting weight type has been standardized.
Zip Chain Lifter - Examples of MTO products and use
Learn more about past Zip Chain Lifter MTO products.
400kg dual-stage pantograph type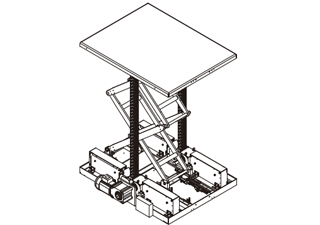 2,000kg single-stage pantograph type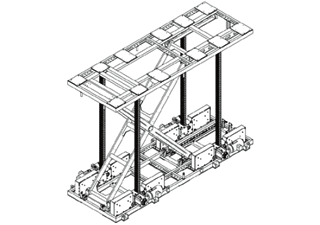 300kg triple-stage telescopic type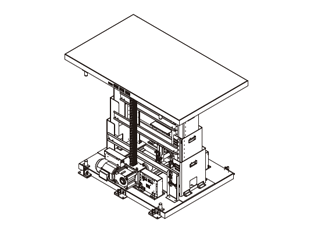 650kg post type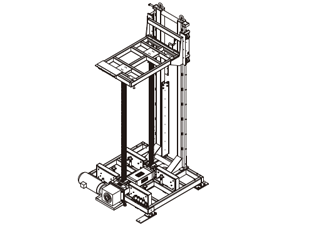 Deactivate t3editor ページコンテンツ [35298] より詳細なオプションを表示(上級者向け)
View/Download Data
Catalog
Zip Chain Lifter / Zip Master Catalog