Introducing the Zip Master, a high-speed electrical lifter using Zip Chains.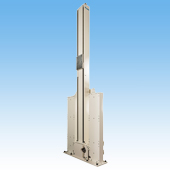 The Zip Master is a high-speed cantilever lifter using Zip Chains.
Zip Chains

Zip Chains are a unique chain that employs specialized Tsubaki technology and allows for pushing and pulling operations.

Zip Chain forms a single column by interlocking two strands of chains like a zipper.
View/Download Data
Catalog/Instruction Manual
Zip Chain Actuator Catalog

Zip Chain Lifter / Zip Master Catalog
Features of Zip Master
Overwhelmingly higher-speed/frequency operation than other drive systems.

The Zip Master realizes superior high-speed/frequency operation over other drive systems by using Zip Chains, which can provide continuous operation.

High speed: Maximum speed of 1,000mm/sec
High frequency: More than 40 cycles/hour
Longer life: More than one million lifting strokes

A self-standing type that offers excellent rigidity even over long strokes.

The Zip Master uses a highly rigid column with a compact design. This structure allows it to withstand overhang load even over long strokes thanks to its built-in linear guide.

High lifting: Over 2,000mm strokes are available.
High rigidity: Adopts the same linear guide as the Lift Master.

Plug and play type reduces labor for assembly thanks to its easy installation.

The plug and play type has an integrated structure that includes Zip Chains, liner guides, and motors.

The Zip Master can be used immediately, unlike conventional lifting devices that require labor for design/assembly.

Realized multi-point stopping/multi-level positioning.

Easily realizes multi-point stopping/multi-level positioning thanks to its simple control structure.