eLINK - Moving toward a new energy society / Striving for an electric powered future -

< V2X bi-directional EV charging systems >
The eLINK is a vehicle-to-everything (V2X) compatible charging system that bidirectionally connects EVs with buildings (V2B), factories (V2F), and power grids (V2G) via a quick charging connector. It can be used for emergency power supply in the event of a power outage, and under normal conditions it can smartly control power supply to the grid and charging of EVs.
We will contribute to the realization of a smart energy society by enhancing the functions for virtual power plant (VPP) resources, releasing models with built-in payment devices that can provide charging services, and customizing it to meet customer needs.
NOTICE: Currently eLINK devices are only available for supply to the Japan domestic market
Features of the new eLINK
Provides emergency power supply in the event of a power outage.
People can use electrical devices at shelters or information centers in the event of a power outage by using EVs/PHEVs/FCVs

*1

as power sources.
The eLINK can also be used in combination with other storage batteries or solar power generation.
EMS (Energy Management System) smart charging/discharging control.
This EV charging system can utilize EVs as a VPP resource thanks to its high degree of responsiveness and precision.
It supports the ECHONETLite

*2

communication interface, and will support Modbus

*3

TCP as well.
This new model has a wide variety of communication functions with EMS.
For peak shaving/peak shifting of electricity demand.
Electricity demand can be reduced by supplying power from EVs, which contributes to less contracted power use and power saving.
You can lower your electricity bill by shifting charging time from high-rate on-peak times to low-rate off-peak times (overnight).
Easy to install in public facilities/offices.
The eLINK features a smart, highly visible design.
User authentication can be performed via a touchscreen.
Customized options are available, such as IoT integration.
1 Confirm which type of vehicle supports eLINK.
2 ECHONETLite: A communication protocol for interlinking systems that provides services such as energy management.
3 Modbus: A communication protocol developed by Modicon Inc. for their own programmable logic controller (PLC).
Overall appearance of the eLINK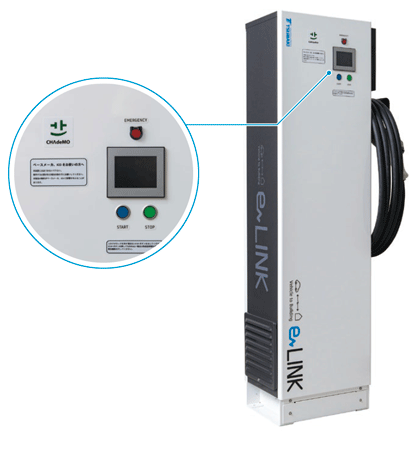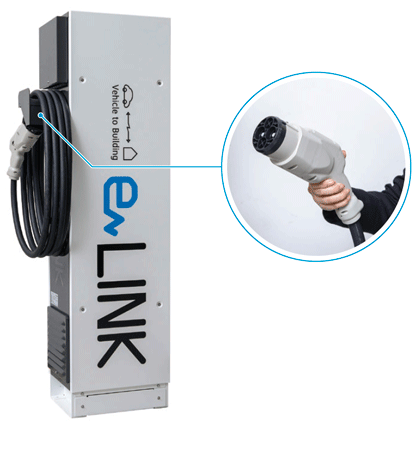 Outer dimensions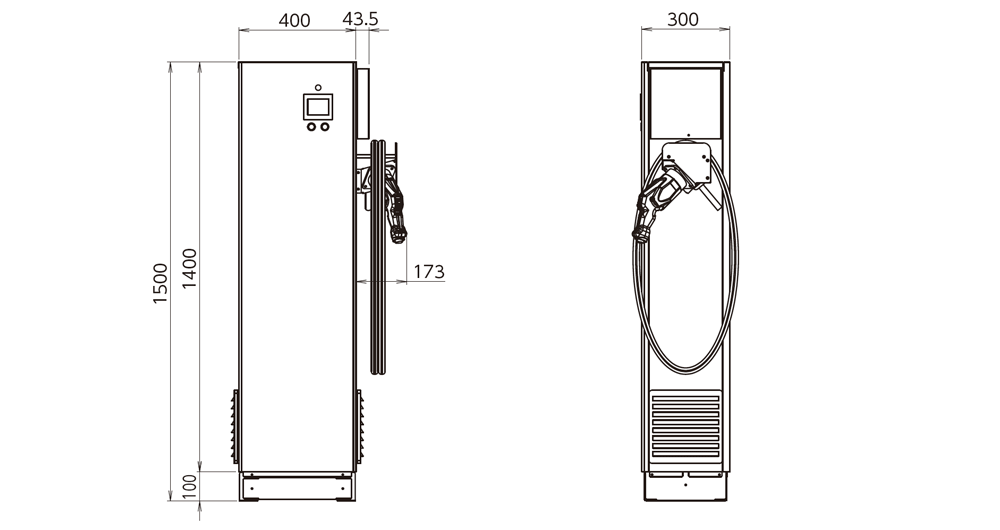 Product specification
Trade name / Model number
eLINK TPS10
Installation
Outdoor
Operating temperature
-10°C to 40°C
Operating humidity
30 to 90% (no condensation)
Degree of protection
IP44 (excluding fan units)
Rated voltage / Frequency
Single-phase, three-wire 202 VAC, 50/60Hz
Output
5kW
Battery voltage
150 to 450 VDC
Safety features
AC ground fault circuit interrupter, DC ground fault detector
User Interface
Touch panel:3.5 inch, 320 × 240 dot (monochrome 16 tones)
Start switch (blue), Stop switch (green), Emergency stop switch (red: latching type)
V2H compatible vehicle

Nissan Motor Co., Ltd.: LEAF e+, LEAF, e-NV200
Mitsubishi Motors Corporation: OUTLANDER PHEV, i-MiEV, MINICAB-MiEV VAN, MINICAB-MiEV, MINICAB-MiEV TRUCK
Toyota Motor Corporation: Prius PHV *Released in May 2019 (in Japan)
Overall dimensions
400(W) × 1500(H) × 300(D) mm (excluding protrusions) 
Charging cable length
About 5.7m
Weight
114kg
Operation modes
Self-sustained operation / EMS operation / Power supply operation / Charge operation / Timer operation
CHAdeMO mode
V2H protocol DC version 2.1
External solution string input
Single point (arbeit contact)
Connection interface
ETHERNET 100BASE-TX
Communication protocols
ECHONET Lite Appendix Version: Release J (Object : EV Charger/Discharger)
Application Communications Interface Specification between EV Charger/Discharger and HEMS Controllers Ver.1.2
Options
Communication Protocol: ModbusTCP (planned)
Only available in Japan (as of October 2019).
Make sure to meet local standards when connecting to the grid.
Customers are required to implement the design/installation of the eLINK by themselves.
Install the eLINK on a concrete foundation with sufficient strength.
Contact a Tsubaki representative before designing as specifications/dimensions shown in the table above are subject to change for improvement.
Vehicles without power-feeding capability are not available for self-sustained/power supply operation.
Safety Precautions

Do not use this system for medical devices that directly involve human lives.
Keep away from the main unit if you are using any powered medical devices such as a cardiac pacemaker or an implantable cardiac defibrillator (ICD).
Do not install this system in a location subject to noise restrictions.
Contact an installer beforehand when installing this system in an area prone to salt damage, around hot springs, etc. Otherwise, the main unit may corrode and reach the end of its service life prematurely.
Keep away from flammable gases (thinner, benzene, insecticides, etc.), corrosive gases, and flammable substances. Failure to do so may result in fire, burns, or other injuries.
Only qualified electricians should perform installation work.
Examples of eLINK installation
The following are actual eLINK installation examples.
Case 1.

V2B example

The eLINK was installed as a trial to reduce energy costs/CO2 emissions in office buildings using EVs.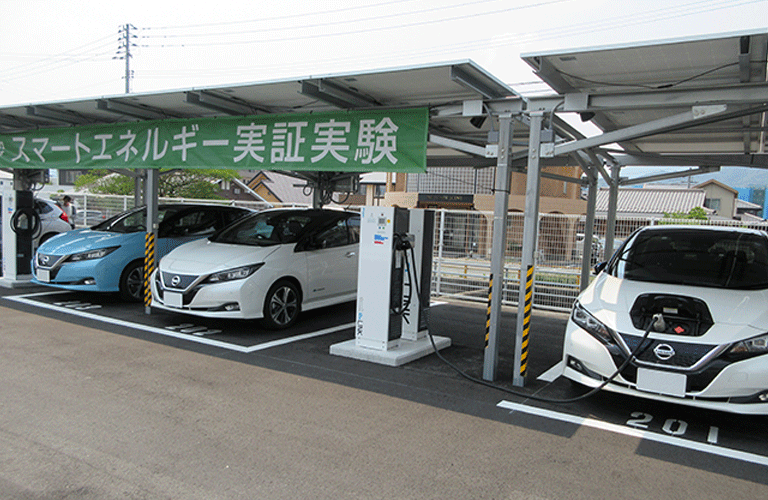 Case 2.

V2G example

The eLINK was used to supply power from EV storage batteries to the power grid (demonstration experiment).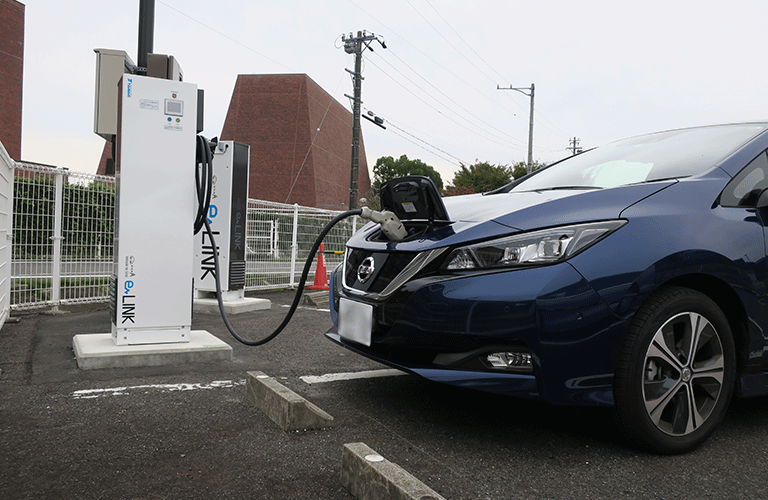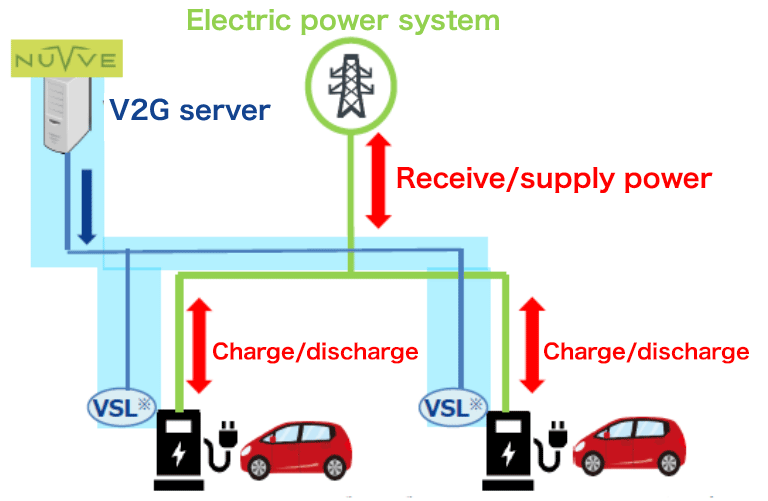 Case 3.

Implementation by local government

The eLINK was installed at eight administrative centers in Yokosuka City to be used as an emergency power source in the event of a power outage, and to reduce peak demand and charge EVs by connecting to the grid in normal times.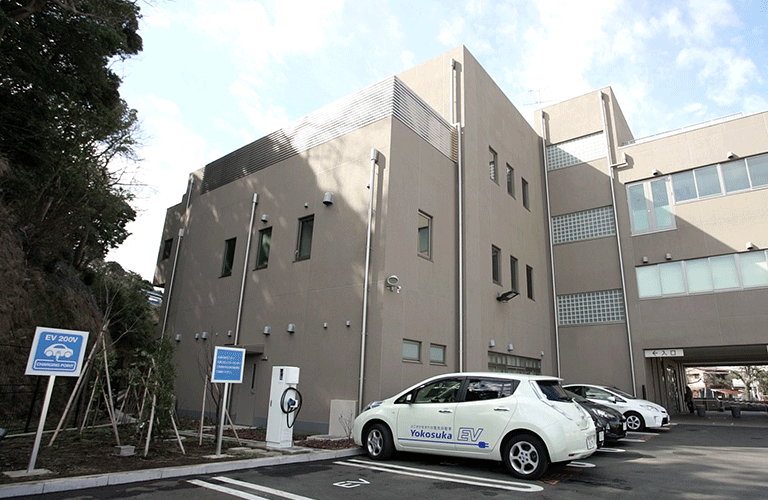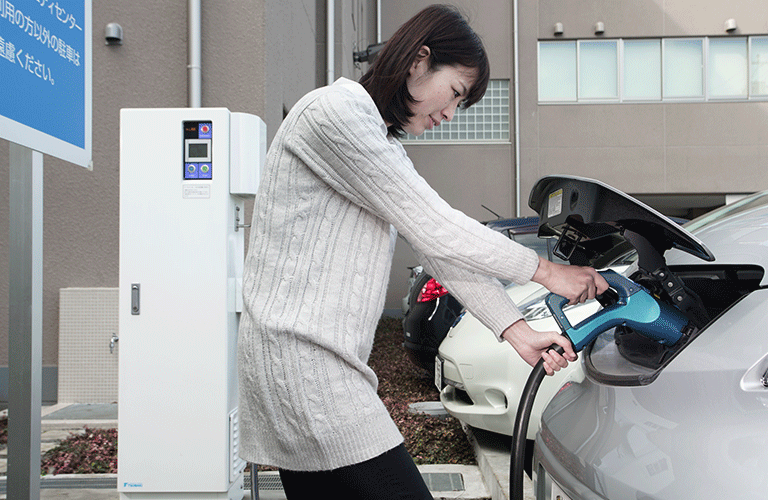 The logos and product names mentioned on the website are trademarks or registered trademarks of Tsubakimoto Chain Co. or our group companies in Japan and other countries.
"ECHONETLite" is a trademark of the ECHONET consortium.
Modbus, Leaf e+, Leaf, e-NV200, Outlander, and i-MiEV, MINICAB, ETHERNET, CHAdeMO are trademarks or registered trademarks of their respective companies.
ECHONETLite: A communication protocol for interlinking systems to provide services such as energy management.
VPP (Virtual power plant): A system to control power generation/storage/demand just like a single centralized power plant. It integrates and manages solar power generation, storage batteries, EVs, and residential devices scattered around the region.
For more information on eLINK