Electrical Overload Protectors
Shock Monitor
This motor power-detecting load sensor can detect a subtle load change of your equipment with a simple wiring system.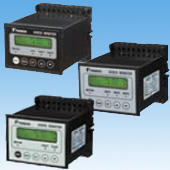 Notice regarding the change in the shape of the casing of the Shock Monitor TSM4000
Product Lineup
TSM4000
Product Types / Features
Comes equipped with analog output 0-10V, allowing for actions and monitoring according to the load
Special Models
Product Types / Features
Specialty Shock Monitors are available other than the series listed on our website. Example: Environmental model, Load-following & monitoring type, Compatible with CE Marking.
Applied Motor Capacity
Motor Power Source
Motor Capacity
AC200/220V 50/60Hz
0.1kW to 110kW
AC400/440V 50/60Hz
Features (Common to All Series)
Ideal for overload protection in light-load range, which is difficult to monitor with current types
Electrical type that is impervious to power supply voltage, enabling stable load detection
Compatible with inverter and servo motor drives
With its quick responsiveness, an output signal is sent as soon as a minimum of 0.03 seconds after abnormal load occurs.
Also capable of recording the load status on the recorder
View/Download Data
Catalog/Instruction Manual
Related Content