Linear actuators (electrical cylinders) are actuators that can be used with simple wiring.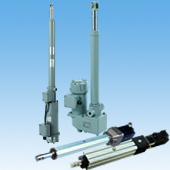 They feature easy handling due to not using hydraulics/pneumatics, and enable high performance/reliable operation through the use of a screw and nut mechanism for the cylinder portion.
There are built-in safety devices for all series for secure operation even when overloaded.
Power Cylinders can solve the problems facing hydraulic cylinders.
Benefits of replacing hydraulic cylinders with power cylinders are…
Tsubaki Power Cylinders are widely used in various industries as they provide easy control and maintenance with a compact design.
Power cylinders do not require the continuous operation of pumps to maintain thrust like hydraulic cylinders do, so they require only 1/5 the power, which can help reduce running costs as well.
Power savings and cost performance approved by LCA

LCA assessment of Power Cylinders

The Power Cylinder has been recognized as a power-saving product by LCA (Life Cycle Assessment). Its power consumption can be significantly reduced compared with air/hydraulic cylinders.

Easy installation and maintenance

The electrification allows for simple system structure, which makes installation and maintenance easier. Power Cylinders can be driven just by connecting the cables. No need for the kinds of pipes needed with hydraulic lifters, and there is no risk of the kinds of oil leakage from the unit and pipes.

When using hydraulic/air cylinders...

Complicated system structure

When using Power Cylinders…

Simple system structure

Easy control

Power Cylinders can be operated at a stable speed regardless of installation/operation direction. In addition, brake motors allow for energy savings as it is not necessary to supply electricity while retaining the load. Even if there is a blackout or other power outage, there is no danger of falling.

Speed control / Stop control

Maintains a stable speed regardless of load conditions.

Load retention

Can retain load wherever it stops
Power Cylinders recommended for switching to all-electric
We will introduce the Tsubaki Power Cylinder series most suited for replacing hydraulic cylinders.
U Series Power Cylinder
Power cylinder with more than 6 tons rated thrust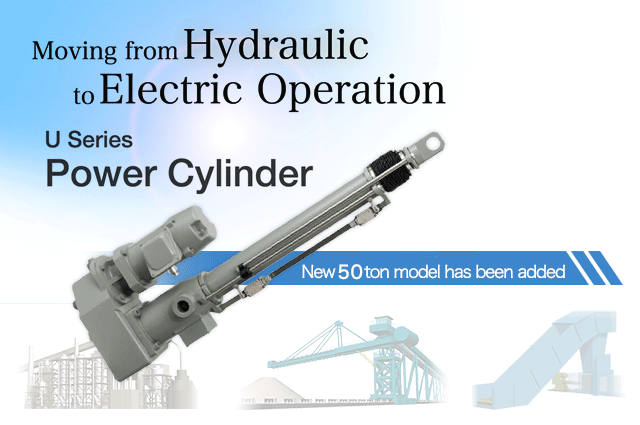 >>Click here for more details.
Worm Series Power Cylinder
Power cylinder substantially closer to hydraulic cylinders
Product Lineup
Product Types / Features
Reduced size and weight while maintaining the same thrust of the previous model. Suitable for synchronized operation of multiple cylinders with one motor.

Large thrust (32ton)
Synchronized operation
Longer life

Suitable for synchronized operation of multiple cylinders with one motor. A thrust detection unit that detects overloads and protects devices is available as an option.

Medium thrust (4ton)
Synchronized operation

A large thrust power cylinder perfect to replace hydraulic cylinders. This series realizes the same dimensions as hydraulic cylinders by using a high precision worm gear and a highly efficient ball screw.

Large thrust (50ton)
Low-speed/low-frequency operation
Quietness

Can handle high-speed/precision operations to maximize servomotor performance.

Speed: 333mm/s with allowable thrust: 1.5 tons
High accuracy

Ideal for applications between two points such as air cylinders. Features self-contained functions that detect overcurrent.

Small thrust (102kgf)
Press stopping, self-contained
View/Download Data
Catalog
Power cylinder, Linipower & Linispeed Jack Catalog