Chain Meshing Type Actuators
Zip Chain Actuator
®
Zip chain was uniquely developed by Tsubaki.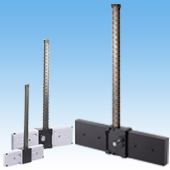 Two chains lock together like a zipper to form a single, strong column for pushing and pulling applications.
Structure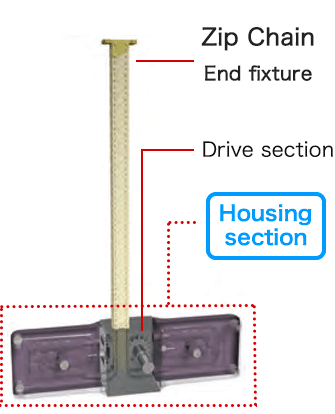 Zip Chain and end fixture
The end fixture is integrated with Zip Chains, allowing for both lifting and hanging installations.
Drive section
The engagement of our unique sprockets and Zip Chains effectively transmits power.
Housing section
The sliding section of the chains enables smooth and compact storage in the chain case.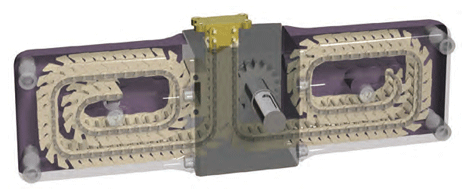 Product Lineup
Product Types / Features
A single Zip Chain Actuator with no drive section.

Tsubaki TT-net

Zip Chain Actuators with hypoid motors are available in any size. The reduced number of parts allows for easy assembly/selection.

Tsubaki TT-net

Enables a compact structure and high-speed positioning with servo motors.

Tsubaki TT-net