Tsubaki's Miter Bevel Gear Box provides long life and has been playing an active role in a wide variety of applications for over half a century.
Tsubaki's gear box provides a full lineup ranging from small models to large models.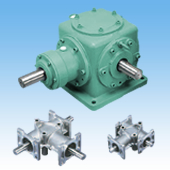 The spiral bevel gear delivers high transmission capacity and high efficiency.
Product Lineup
Miter Gear Box
Product Types / Features
A full lineup from small-size models to large-size models, for a wide range of applications
ARA Gear Box
Product Types / Features
Employing aluminum die casting makes this gear box compact and lightweight
Features
High Reliability
The Miter Gear Box has a good reputation from customers in various fields due to its reliability and proven performance from our years of experience.
Wide Variation
The Miter Gear Box and ARA Gear Box offer an extensive line of standard models and semi-standard models.
Best Solution
You are assured the most suitable models for all applications with a wide variety of special specifications.