Two lines are available: The L Series is ideal for directly connecting general-use motors under light load.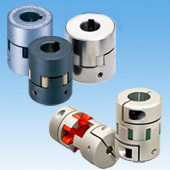 The LN Series is excellent for vibration resistance at servomotor drives and shock absorption during startup and stopping.
Both series are simply constructed of two hubs, an insert and a spider, allowing for extremely easy installation and removal.
All models are RoHS compliant.
Standard
Series
Capacity
(N·m{kgf·m})
Bore Diameter Range
(mm)
L Series
0.4{0.04} to 711{72.6}
φ5.0 to φ69
LN Series
60{6.1} to 405{413}
φ12 to φ42
View/Download Data
Catalog/Instruction Manual