Idler Wheels for Top Chains
Idler Wheels for TP-50UNS Chains
Idler wheels for TP-50UNS Series plastic Top Chain.
Equivalent no. of teeth 10T available.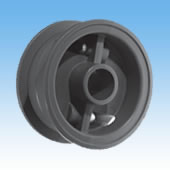 1. Overview
Available for: TP-50UNS Series
Type: Split
Equivalent no. of teeth: 10
Material: Body = Polyacetal, Bolts & nuts = Stainless steel
When assembling a pair of split sprockets, avoid mixing with the other pairs.
Not suited to rough shafts, as the idler wheel will rotate on the shaft.
Use with polished shafts.
2.Model Numbering Example
| | | | |
| --- | --- | --- | --- |
| TP-IW50UNS | 10 | - | 30 |
| (1) | (2) | | (3) |
(1) Chain Type
(2) Equivalent no. of teeth: 10
(3) Bore diameter: mm 30 = 30.5, 40 = 40.5