Sprockets for TT Series stainless steel Top Chain.
Steel sprockets (plain bore)
Steel Lock Series sprockets
Engineering plastic sprockets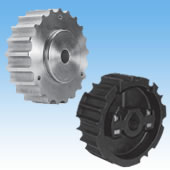 1. Line-up
Classification
Steel Sprockets
Engineering Plastic Sprockets
Type
Solid Sprockets
Split Sprockets
Type
Plain bore
Lock Series
Keyway specifications: ISO 773 - DIN 6885 key seat
Basic model no.
TT**T
TT**T-S
TP-C**NT-SPR
Applicable chains
TT Series
Shape
Material
Machine-structural carbon steel
Body: Reinforced polyamide
Nuts = Nickel plated brass
Bolts = Stainless steel
Actual no. of teeth
19, 21, 23, 25
21, 23, 25
Effective no. of teeth
9-1/2, 10-1/2, 11-1/2, 12-1/2
10-1/2, 11-1/2, 12-1/2
Sprockets with an effective no. of teeth as 9-1/2 are made-to-order products.
Steel sprockets do not use hardened teeth.
2.Model Numbering Example
Steel Sprockets
(1) Type
(2) Effective no. of teeth: (Ex.) 1012T = 10-1/2
(3) Bore diameter: mm (Not available with plain bores)
Engineering Plastic Sprockets

(1) Type