Sprockets for WT0705-W Series
Solid sprockets for WT0705-W Series Plastic Modular Chains
Available with 15T, 24T, and 32T.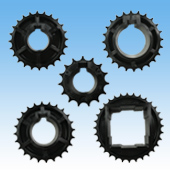 1.Line-up
Type
Solid (Molded) Sprockets
Model no.
WT-N0700-15T18
WT-N0700-24T20
WT-N0700-24T25
WT-N0700-24T30
WT-N0700-32T40S
Applicable chains
WT0705-W
Shape
Material
Reinforced polyamide (Color: Black)
Bore shape
Round
Square
No. of teeth
15
24
32
Made-to-order product.
Operating temperature range: -20ºC to 80ºC.
Sprockets are made to fit loosely on the shaft to absorb differences in thermal expansion between the chain and conveyor, and alignment errors between the sprockets and chain.
Sprockets can be also manufactured with other numbers of teeth than noted. Please contact a Tsubaki representative for more information.
2.Reference Number System
| | | | | | | | |
| --- | --- | --- | --- | --- | --- | --- | --- |
| WT | - | N | 0700 | - | 15T | ■■ | * |
| (1) | | (2) | (3) | | (4) | (5) | (6) |
(1) Model
(2) Sprocket type: S = Solid Sprockets (Molded)
(3) Chain type: 0700 = WT0705-W
(4) No. of teeth: 15T = 15, 24T = 24, 32T = 32
(5) Bore diameter: mm
(6) Bore Shape: [Blank] = Round, S = Square