Chain pitch: 25.4mm
Plastic modular chain with magnets embedded in the links.
BTM8H: Closed type (Magnet type)

1. Features
Magnets embedded in the links adhere to conveyed (magnetic) objects to enable inclined conveyance.
Does not use flights, which avoids damage to conveyed goods from flight interference.
Made-to-order product. We will need to consult with you regarding magnet positioning.
2. Magnet Model Diagram
Magnets can be positioned in freely in rows to match your application or conveyance needs.
Refer to the diagram on the right for positioning.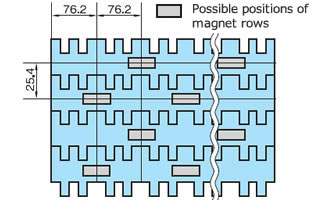 3. Model Numbering Example

(1) Model
(2) Link shape: M = Magnet type
(3) Chain pitch: 8 = 25.4mm
(4) Type
(5) Chain width: (Example) 3048 = 304.8mm
(6) Series code: LFG = Low friction, Anti-wear type
(7) TK: Made-to-order product