For the cardboard industry! Chain pitch 25.4mm
Stacked cardboard sheets conveyance and operator-friendly stable conveyance chain.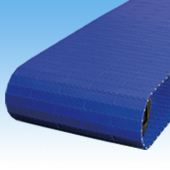 1. Features
Expanded range of sprockets to accommodate various conditions

The expanded variety of molded plastic sprockets has enabled to use them in a wide range of conditions.
We have newly lined up 38mm and 51mm square hole sprockets with 18T teeth and 90mm square hole sprocket with 22T teeth.
For WT2520 series sprockets, refer to the sprockets page.

Stable conveyance with surface contact

Compared to roller conveyors with point-contact conveyance, plastic modular chains convey a variety of stacked sheets in surface contact, enabling stable conveyance without sheet collapse, load collapse, or vibration.

Surface shapes for ease of handling

This chain has a gentle R500 convex shape on its surface.
Stacked heavy sheets slightly fit into the convex shape of each surface to prevent slippage, and they are also easy to move due to their low friction effect when the operator handles relatively lightweight cardboard sheets.

Prevents adhesion of dust and wear powder due to static electricity

The chain material is based on polyacetal resin and is provided with an antistatic function that prevents dust and wear powder from adhering due to static electricity. (Normal specification: Blue only)

Volume resistivity:1×10

13

Ω・cm

Inline layout reduces transfer space.

The backside surface has a rounded shape, which is suitable to wind around the round bar of 50 mm.
It can be minimize dead space between conveyors with round bars at the ends of conveyors in below.

Install a safety device (safety cover, etc.) to prevent entanglement.

Improved safety using different appearance color

The operator can check the operation of the conveyor by incorporating links of different appearance color into the main body chain. Contact Tsubaki representative when incorporating links of different appearance colors.
2. Application examples
Although this chain is used mainly in the cardboard industry, its high cost performance has led to the widespread use in other industries.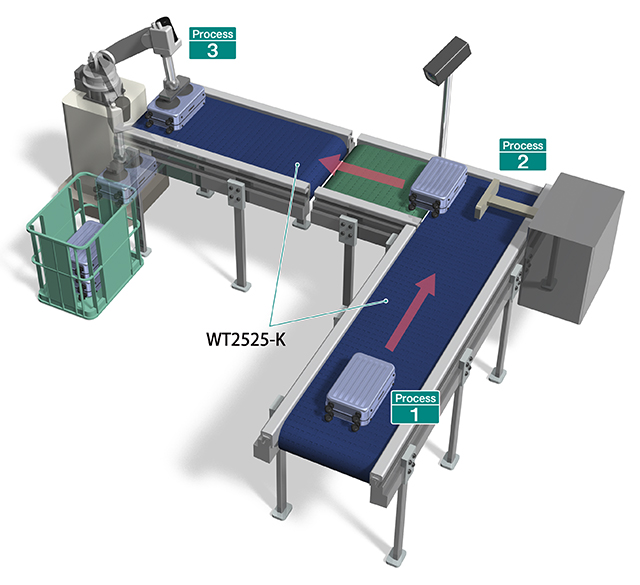 [Process 1]
Transport luggage such as a suitcase.
[Process 2]
Push the transported products to the side with the pusher.
Point:Excellent sliding performance thanks to low-friction properties, enabling smooth extrusion of conveyance objects.
[Process 3]
Transfer to the container using a robot.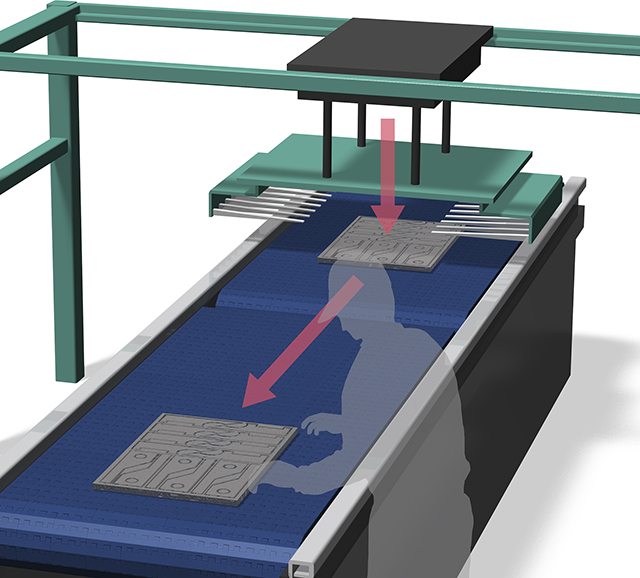 [Process]
Laser-processed steel sheets are sorted by workers on the conveyor without being loaded on the pallet.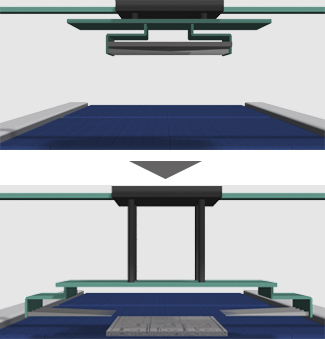 Point:Plastic modular chain prevents scratches on transported products!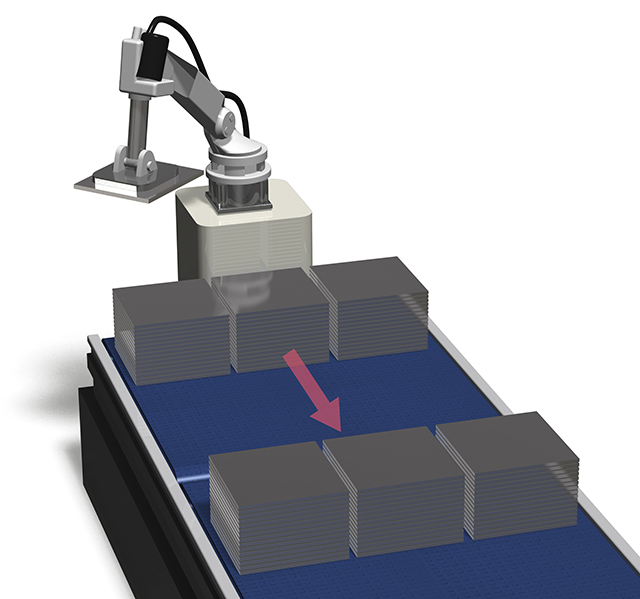 [Process]
Materials are stacked and transport to the next process.
Point: Plastic modular chains can transport conveyed products without using pallets. In addition, they can be transported stably without worrying about load collapse or vibrations.
3. Model Numbring Example
| | | | | | | | | | |
| --- | --- | --- | --- | --- | --- | --- | --- | --- | --- |
| WT | 25 | 25 | - | K12 | - | B | + | 80 | L |
| (1) | (2) | (3) | | (4) | | (5) | | (6) | (7) |
(1) Chain type
(2) Chain pitch: 25 = 25.4mm
(3) Link shape: 5 = closed type
(4) Chain width: K12 = 304.8mm * The numbers are in-inch width. To convert to millimeter width, multiply by 25.4.
(5) Material mark B = Standard series
(6) Minimum quantity: 2, Maximum quantity: 99999.
(7) Unit: L = Link
Refer to the "Dimensions and Specifications" or "Top Chain Catalog" on the product page to check whether the material is available.

Chain width wider than 1143mm is also available . Contact a Tsubaki representative for more information.
Do not leave space between letters and symbols.