Chain pitch: 27.2mm
Perfect for conveying containers, food, and rubber sheet.
WT2705-K: Closed type
WT2706-K: Open type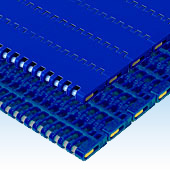 1. Features
Uses a plug for the pin stay, making chain connection easy. Pins can be reused.
Open type (WT2706-K) features a raised portion on the chain ribs for easy positioning during connection and easy assembly.
Chain widths available standard in 3 inch (76.2mm) width increments. 1/3 inch increments possible by cutting the modular links.
2. Line-up
| Closed type | Open type |
| --- | --- |
| | |
| | |
3. Model Numbering Example

(1) Model
(2) Chain pitch: 27 = 27.2mm
(3) Link shape: 05 = Closed type, 06 = Open type
(4) Chain width: Inch (Example) K24 = 609.6mm (24 inches x 25.4 = 609.6mm)
(5) Series code: B = Normal type, LFB = Low friction, Anti-wear, HTW = High temperature
*Click here for more information on each series