Heavy duty linear conveyor chain with a steel chain base.
Standard Series
NP Series
LMC-NP Series
SS Series
PC Series

1. Features
Has a large allowable load, making it ideal for conveyors with a large conveying capacity. (Does not include SS or PC Series)
Just the top plates can be replaced.
Chains suitable for use in corrosive environments also available.

Base chain specifications and features
Standard Series

Base chain: Steel
The main dimensions are the same as with roller chains, but the shape of the pin ends is different. Be aware that the chain is slightly weaker than an RS drive chain.
*Base chain requires lubrication.

NP Series

Base chain: Nickel plated steel
Nickel plated for an attractive appearance and slight corrosion protection.
*Base chain requires lubrication.

LMC-NP Series

Base chain: Lube-free Lambda Chain with oil impregnated sintered bushes
All parts except the bushes are nickel plated.

SS Series

Base chain: All parts 18-8 stainless steel
Can be used in corrosive environments.
*Base chain requires lubrication.

PC Series

Base chain: Poly-steel chain (TN-PC)
Uses a special connecting link for TN chain. This Top Chain is made from engineering plastic and 18-8 stainless steel -- provides corrosion resistant, lube-free, low noise operation.
2. Structure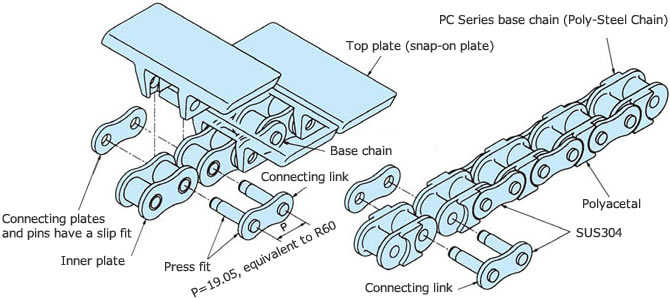 TN Series Top Chain uses an RS60 equivalent base chain and snap-on top plates.
The legs of the top plates snap onto the outer links of the base chain.
3. Model Numbering Example
Base chain and connecting links
| | | | | | | |
| --- | --- | --- | --- | --- | --- | --- |
| TN | - | C | - | LMC-NP | - | JL |
| (1) | | (2) | | (3) | | (4) |
(1) Model
(2) Base chain
(3) Base chain specifications: Blank = Standard series, NP, LMC-NP, SS, PC
(4) Use "CL" when connecting links are needed
Top plates
| | | | | |
| --- | --- | --- | --- | --- |
| TN | 826 | P | - | PC |
| (1) | (2) | (3) | | (4) |
(1) Model
(2) Top plate width: mm (ex.: 826 = 82.6mm)
(3) Top plate specifications: P = Standard series
(4) Base chain type: Use "PC" for Poly-Steel Chain, for other chain types leave blank