KF Series Lambda Chain features
Uses an eco-friendly NSF-H1 grade certified oil for use on food equipment. Provides stable lubrication and wear resistance in temperatures ranging from -10°C to 230°C.
Uses NSF-H1 certified special lubricant
When kept in 230°C temperatures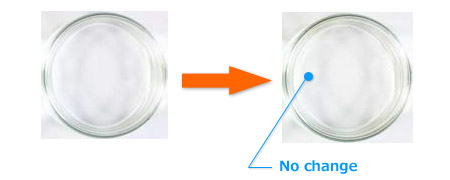 Wear life in ambient temperatures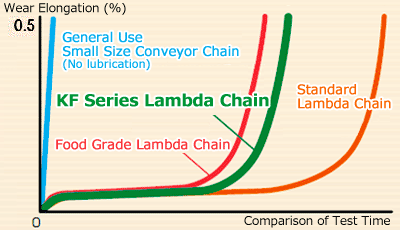 Uses an eco-friendly NSF-H1 grade certified oil for use on food equipment where additional lubrication is difficult and wear is a problem.
KF Series chain provides the same or better wear life than the previous food grade Lambda Chain.
Provides over 7x the wear life of general use small size conveyor chain.
(To 0.5% wear elongation, based on in-house wear test results using drive chain conditions)
Wear life comparison results in high temperatures (in-house test data)
Uses a special lubricant that does not volatize or degrade in high temperature environments (150°C to 230°C) for maximum wear resistance in high temperatures.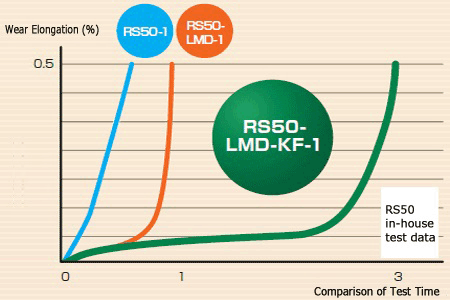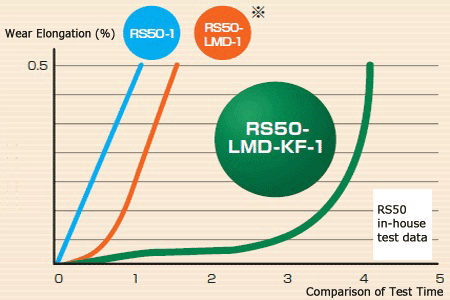 The maximum allowable temperature for standard Lambda Chain is 150°C. Do not use Lambda Chain in usage conditions exceeding 230°C, as this will remarkably affect wear life.
Using in applications exceeding 280°C is dangerous due to the release of poisonous gas.
Contributes to greater productivity through reduced maintenance time.
Uses a special oil-impregnated bush, so no additional lubrication is needed. This eliminates equipment getting dirty from additional lubrication and helps you maintain a clean work environment.