KV Series Plastic Roller Chain Applications
KV Series plastic roller chain is usable at high temperatures (180ºC) and in contact with chemicals to meet your application needs even further!
Problem solved! Substrate aging line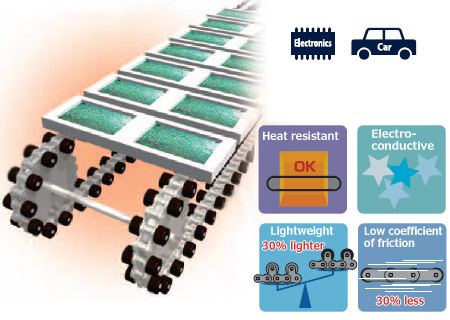 KV Series rollers have a low surface resistance (10^6Ω), making it hard for them to take on static electricity. This allows the chain to be used to convey substrates.
And compared to the steel rollers they were using previously, the chain is 30% lighter and there is 30% less coefficient of friction, which allowed them to reduce their required power.
Popular in the electronics/electricity industry, the automotive industry, and others!
Food safety -- steamers and boilers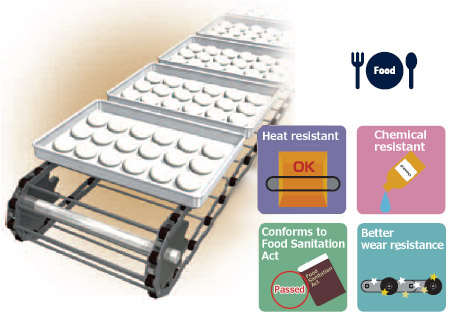 KV Series plastic rollers use a material approved by the Food Sanitation Act, so it can be used on food manufacturing equipment.
The rollers also have vastly superior wear resistance in wet and dry environments at high temperatures compared to conventional plastic rollers.
Widely used in the food industry!
Corrosion resistant -- washing and drying line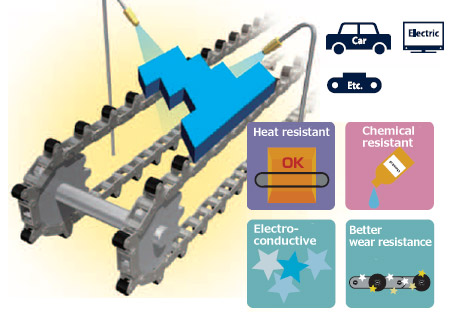 Can be used in washing, drying, and other severe areas that conventional engineering plastic rollers could not!
Offers superior chemical resistance to the different chemicals found in cleaning solutions.
On painting and drying lines in the automotive, home appliance, and other industries.
Increased productivity -- Freezing + conveying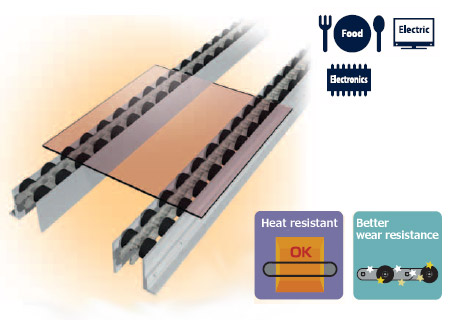 Can convey high temperature work even while being frozen. Won't scratch work, even when placed directly on the plastic rollers!
This helps shorten yield cycle times and greatly increases productivity.
You'll find KV Series in the food industry, electronics/electric industries, and elsewhere!