Automatic Lubricator for Roller Chain - Structure/Features
Switching on the gas generator generates H2 gas, the pressure of which pushes down a piston and releases oil from the bottom of the lubricator. Setting the time adjustment dial allows users to control the amount of H2 gas generated for 1 - 12 months, thereby allowing for stepless adjustment of oil discharge.
Structure/Dimensions

Structure/Dimensions
■Freely adjustable service life

You can easily set the service life with just a hex wrench.

■Reduced maintenance time

Automatic lubrication eliminates the need for frequent manual lubrication, which simplifies your lubrication schedule.

■Can be installed in any direction

The lubricator can be installed facing up, down, or horizontally.

■Waterproof

Waterproof -- can be used in contact with water.

■Features an inspection window

The transparent PET plastic lubricator also features an inspection window so you can always check remaining lube and operating condition.

■Highly safe

The lubricator is certified with the GS mark from German TÜV safety standards.

■Reliable

The gas generator has proven reliability in the medical field (IV drips).

■Usable in explosion-proof applications

Passed TIIS screening and is certified as an explosion-proof electrical apparatus.
Specifications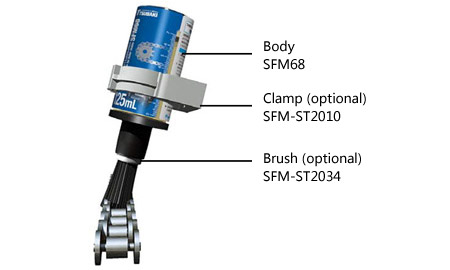 Specifications
Operating principle
H2 gas pressure (dry cell battery)
Operating principle
Max. 0.3MPa
Volume
125ml
Discharge period
1 - 12 months (stepless)
(at ambient temperature of 20ºC)
Operating temperature rang
-20℃~50℃
Food grade oil
The SFM68 automatic lubricator for roller chain uses food-grade oil that passes the FDA's federal regulation 21CFR178.3570 and is certified H1 by the USDA for added safety in food manufacturing processes.
Features of food-grade oil
Highly safe
Uses oil cleared by US FDA standards and is USDA H1 certified for safety in food manufacturing processes.
Contributes to increased safety in PL activities and HACCP systems.
Excellent lubrication properties, long life
Uses a high performance base oil balanced perfectly with an additive blend for a long life, high performance lube.
Clean
Our odorless, colorless lubricant helps keep your factory clean.
(The lubricant may darken upon exposure to heat and sun, but its performance is not affected.)