Introducing Tsubaki's new Low Contact Pressure type KE Series Power Lock
®

Special bolts reduce the contact pressure generated
Can be used on small diameter hubs, where power locks have traditionally been difficult to use on.
Can be used in various applications without sacrificing compatibility with a wide range of shaft tolerances, which is a feature of the KE Series.

Can even be used when…
Hub strength cannot withstand the contact pressure generated
There is insufficient shaft strength

Hub diameters can be downsized to help in creating more compact equipment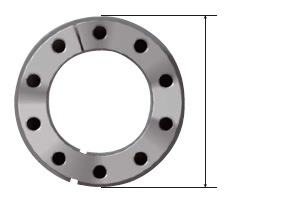 Can be mounted on small hubs thanks to its small outer diameter. Provides low contact pressure with the same inner-to-outer diameter ratio.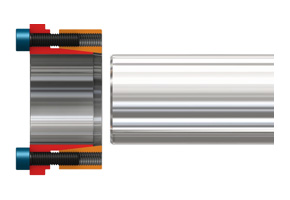 Can be used with shaft tolerances of m6, k6, js6, and h6 to h10.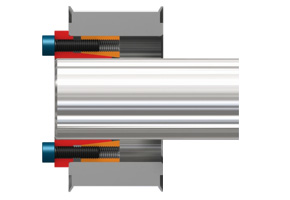 No guide for centering required as it has superior concentricity when mounting on hubs. No troublesome finishing required -- OK with straight bores, and the shaft is straight.
Related Products
S Type Lock Pulleys
Tsubaki's most versatile lock pulley. It can be used with Ultra PX Belts thanks to its heavy-duty locking features. Electroless nickel-plated types and types with high strength aluminum alloy (A7075 equivalent) pulley units are also available.
C Type Lock Pulleys
Clamp collar type that can be locked easily with two bolts. Has excellent rotation balance, and can be used on small diameter shafts without changing the shape of the pulley.
Support and Contact for KE Series Power Lock