Integrated Attachment Chain
Tsubaki's Small Size Conveyor Chains meet any customer need
What is Integrated Attachment Chain?
Integrated Attachment Chain is Tsubaki's special customized attachment chain which integrates chains with jigs that the customer would normally attach.
The jigs (attachments) are incorporated into the chains in advance.
Before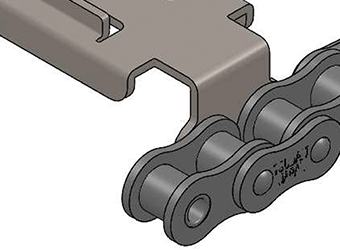 After
Laser processing means no dies are required, and it allows for small lot manufacturing.
Before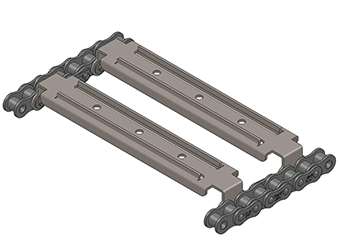 After
Unlike the previous method where jigs are machined and then attached to the chain, with Integrated Attachment Chain the attachment itself can be manufactured on a laser cutter.
We can also accept small-lot orders, as there is no need to make complex dies. Furthermore, we can deliver relatively inexpensive MTO chains by reducing costs for trial dies and so on.
No labor required for jig manufacturing and installation, enabling an overall cost reduction.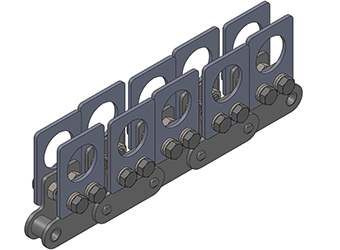 Before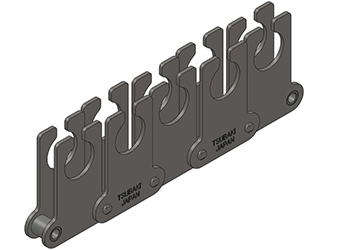 After
Using chains with jigs attached means labor to manufacture the jigs through plate presswork and attaching them to the chains with bolt nuts, etc.
Integrated Attachment Chains are integrated with the jigs, which enables overall cost reduction in jig processing expenses and installation time on the customers' side.
No welding required thanks to its integrated structure, so jigs don't come off.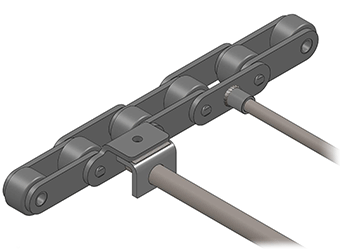 Before
After
The jigs may come off if the customer welds them to their Small Size Conveyor Chains.
If the weld comes off, it can cause contamination in food processing equipment and necessitate repair. Integrated chains can reduce labor from welding and prevent contamination. Compared to welding, the accuracy of the jig attachment location is also better.
Examples of Integrated Attachment Chain manufacturing
Tsubaki's Integrated Attachment Chain can be manufactured in the following three ways to meet customer requests.
Option 1

Tsubaki attaches jigs manufactured by customers to chains.
Option 2

Tsubaki manufactures and attaches both jigs and chains.
Option 3

Tsubaki manufactures Integrated Attachment Chains with jigs integrated into the chain.
For more information
Email inquiries
Global Tsubaki Network