Provision of Eco Products (SDG-oriented Products)
What Are Tsubaki's Eco Products (SDG-oriented Products)?

The Tsubaki Group has created many unique products that are environment-friendly, such as those with extended life spans and energy-saving features. In 2011, we established "eco" evaluation criteria with the aim of bolstering product development that helps customers reduce their environmental impact (ecology) and improve their economic performance (economy). We classify products that clear this criteria as eco products.
Moreover, from the fiscal year ending March 31, 2021, we will add the SDGs as a new angle and expand the development and sale of new eco products from the following two perspectives.
1. Contribution to environmental conservation through reductions of CO2 emissions from a life cycle perspective by improving existing products and developing new products
2. Indirect contribution to environmental conservation by promoting existing products or new products in global markets for environmental (SDGs) products, such as those offering low-carbon or decarbonization features.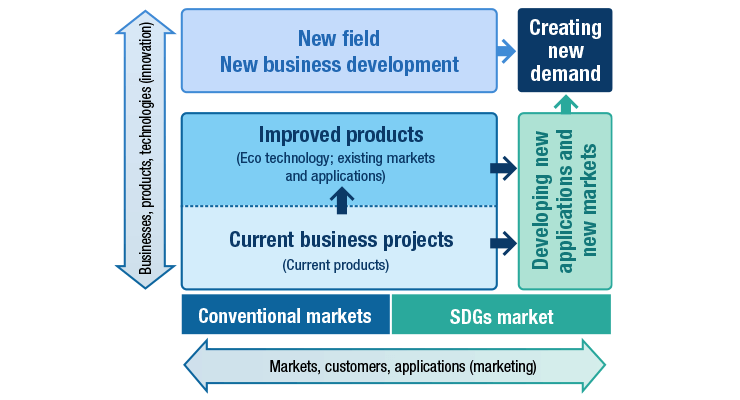 Eco Evaluation Criteria
| Environmental Consideration Items | Product Specification | Benefits |
| --- | --- | --- |
| Resource conservation and waste reduction | Recycling, reducing resource usage, and extending service life in order to conserve resources | Compact and lightweight design, lube-free design, longer life, waste reduction, recycling, elimination of residue |
| Increased energy saving and reduced CO2 emissions | Reduction of CO2 emissions through increased energy efficiency | Low friction, high efficiency, and compact and lightweight design |
| Cleaner workplaces and usage environments | Contributing to improved workplace environments and usage environments for customers | Lube-free design, low dust generation, spill prevention |
| Consideration for the environment | Considering the area surrounding the customer's worksite and the environment of the local community | Pollution control, low noise, low vibration, reduced noxious odors |
| Easier disposal | Supporting environmental considerations by improving waste recyclability and sortability | Use of similar materials and ease of disassembly |
| Reuse | Recovery of used parts for later reuse | Product reuse |
| Reduced use of hazardous substances | Elimination of hazardous chemicals, including specific reductions in response to customers' requests | Reduced use of hazardous chemicals and increased use of edible grease |
Relationship between Eco Products and SDGs
We are emphasizing the benefits that eco products (SDG-oriented products) can provide to customers from two aspects of the SDGs, namely climate change and environmental protection, in addition to the existing eco-evaluation criteria.
In addition to developing environmentally conscious products that contribute to environmental and economic efficiency, we are also going to actively develop application products that indirectly contribute to the environment by encouraging customers to use environmentally conscious products.
Through our environmentally friendly products, the Tsubaki Group will contribute to our customers' "Eco & Eco" (Ecology & Economy).
SDG
Item
Eco Leaf Mark

Tackling climate change




Compact size and light weight
Reduction of amount of raw materials used
Longer life
Reduction of the number of replacements
Use of recycled materials
Effective use of resources
Reduction and standardization of parts
Reduction of waste and assembly work
Maintenance-free, ease of use
Reduction of maintenance man-hours and conversion to plug-and-play installation
More efficient shipping layout
Reduction in the number of trucks and packaging materials used for transportation
High efficiency
Reducing CO2 emissions during use
Lower power consumption
Reducing power consumption during use
Change of material
Weight reduction and strength improvement (at the same shape)
Use of similar materials and ease of disassembly
Improved convenience in disposal treatment
Use of biodegradable resources
Decomposition of substances by the action of microorganisms, etc.
Reuse of products, parts, and materials
Adoption of reusable units and parts

Benefits of environmental conservation




Low debris generation
Improvement of on-site environmental performance
Noise prevention
Reduction of noise
Prevention of vibration
Reduction of vibration
Reduced use of hazardous chemicals
Abolition or reduction of hazardous chemical substances
Use of environmentally friendly paints
Reduction or abolition of hazardous chemical substances
Increased use of edible grease
Non-use of hazardous oil
Effective use of water resources and prevention of water pollution
Elimination and reduction of water-quality pollutants
Resource conservation and waste reduction

Increased energy saving and reduced CO2 emissions

Cleaner workplaces and usage environments

Consideration for the environment

Easier disposal

Reuse

Reduced use of hazardous substances
Representative Eco Products