Dialogue with Employees
We regularly conduct employee awareness surveys to ensure that our organizational operations reflect the voices of our employees, with the goal of creating a better working environment.
Twice a year, we hold a Business Status Briefing for all employees at each of our business locations (including the Netherlands and other locations outside Japan) to discuss our financial results and the challenges we face. Due to the COVID-19 pandemic, in FY 2021 we continued the practice begun in FY 2020 of delivering a video presentation to all employees on our business status along with a message from the president. We also seek mutual understanding with labor unions regarding business operations and union activities through the Labor Council, top-level meetings, and workshop meetings.
During the COVID-19 pandemic, we delivered timely internal notifications of corporate measures to minimize the spread of the pandemic and granted special vaccination leave to employees in order to provide support related to vaccination. In addition, we focused on the safety of our offices outside Japan and our expatriate employees, exchanging information closely with offices in countries and regions where the infection was widespread and providing necessary supplies.
Topics: Promoting Dialogue with Employees in Thailand through "Coffee Talk"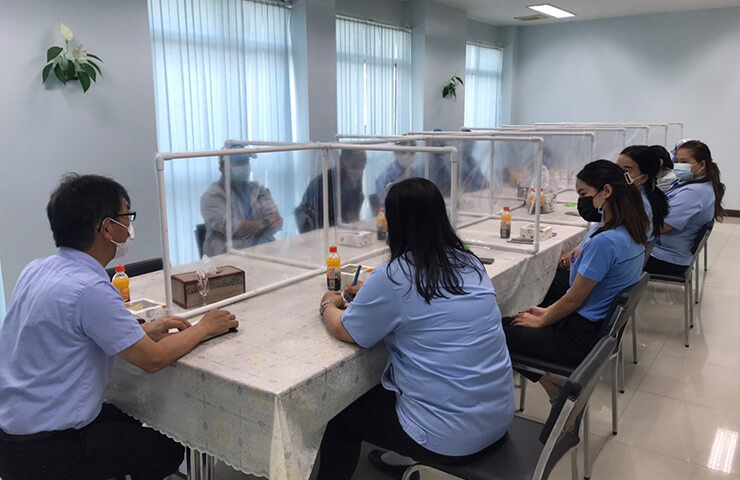 Tsubakimoto (Thailand) Co., Ltd., our subsidiary in Thailand, holds monthly "Coffee Talk" get-togethers where employees born in the same month meet with the president without the attendance of their immediate supervisors.
At this event, employees can freely exchange opinions with the president without fear of disfavor and can submit frank suggestions to the company and ask questions that they would not normally be able to ask. When a company cares about its employees, builds good relationships with each individual, and better understands their work environment, trust in the organization grows.
The program has been well received by employees, with a participation rate exceeding 90%. Employees are able to obtain clear answers from the president on site, and some of the employees' ideas are considered for implementation as company-wide improvement measures.