Power Transmission Products
Linear Actuator
Tsubaki offers a variety of linear actuator products, including power cylinders and jacks combining ball screws, trapezoidal screws, gears, and motors, as well as actuators using chain drives to meet customer needs.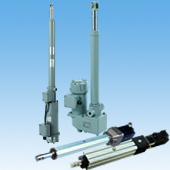 Power Cylinders are high performance electrical cylinders with simple wiring that use a screw and nut mechanism in the cylinder.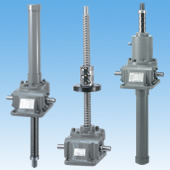 Linear actuators (jacks) are composed of a combination of trapezoidal screw threads or ball screws and worm gears. They operate by simply connecting them to a drive motor. They come in three types: trapezoidal screw thread, ball screw, and high-lead ball screw. Also, we added a new LiniSpeed Jack that provides the high-speed, high-frequency operation and low-floor specifications to our line-up.
Zip Chain is a chain uniquely developed by Tsubaki. Two chains interlock like a zipper to form a single, strong column for pushing and pulling applications. Tsubaki Zip Chain Actuators are entirely new linear actuator products that enable high-speed/frequency operation and space savings.