Slipping clutch and brake with the friction facings made of fine chemicals.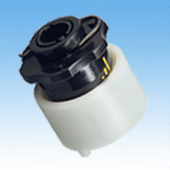 In addition to the anti-wear design, features the torque indicator and light-weight body for ease of use.
RoHS compliant
Standard
| Capacity N·cm | Models |
| --- | --- |
| 1.96 to 39.2 | 3 Models |
1.Features
Ultra-lightweight & compact
Use of engineering plastic materials makes the Mini Keeper ultra-light and compact.
Stable slip torque & torque repeatability
By employing fine chemicals for the friction surface, delivers long service life, stable slipping torque, and accurate torque repeatability.
Easy to handle
The easy-to-read torque indicator makes the torque setting easy.
2.Structure
3.Model Numbering Example
(1) Mini keeper
(2) Size
View/Download Data
Catalog/Instruction Manual