Keyless (Friction Type) Locking Device
Power-Lock®
The Power-Lock boasts a wide range of variations.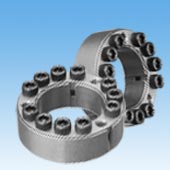 This friction type locking device allows easy, strong, and secure connections between shafts and hubs without backlash. The environment-resistant series is also available, which is suitable for use in clean rooms.
Power-Lock Units: RoHS compliant.
Product Lineup
Integrated Pulleys/Sprockets
Power-Lock -- Handling
Check out this easy to understand movie detailing assembly, removal, and other aspects of handling Tsubaki Friction Type Locking Device Power Locks.
View/Download Data
Catalog/Instruction Manual