Sprockets for WT3835-K/WT3835-T Chain
Sprockets for WT3835-K/WT3835-T raised rib type plastic modular chains.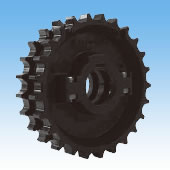 1. Line-up
Type
Solid Type
Split Molded Type
Basic model no.
WT-S3830
TTP
Applicable chains
WT3835-K, WT3835-T, WT3835G-M
WT3835-K, WT3835-T
Shape
Material
Ultra-high molecular weight polyethylene
Body: Reinforced polyamide
Bolts & nuts: Stainless steel
Actual no. of teeth
24, 25
21, 23, 25
Effective no. of teeth
12, 12-1/2
10-½, 11-½, 12-½
Bore shape
Made-to-order
Keyway specifications: ISO 773 - DIN 6885 key seat
Remarks and Points of Caution

Made-to-order product.
Sprockets can be also manufactured with others number of teeth, types, and materials than noted. Contact a Tsubaki representative for further information.

When assembling a pair of split sprockets, avoid mixing with the other pairs.
Use this sprocket in environments where there are no temperature changes.
Split molded sprockets for TTP cannot be used with WT3835 chain.
2.Model Numbering Example
Solid type

(1) Type
(2) Sprocket type: S = Solid
(3) Chain type
(4) Effective no. of teeth: 1200T = 12, 1212T = 12-½
(5) Bore diameter: mm (Made-to-order product)
(6) Bore shape: Made-to-order product
Split type

(1) Type
(2) Actual no. of teeth: 21T = 21, 23T = 23, 25T = 25
(3) Bore diameter: mm