Application Examples and Benefits -- Steel
Tsubaki has long years of experience and success in a variety of industries and applications, which allows us to provide solutions uniquely tailored to the problems facing any application.
You'll find examples below of Tsubaki in action in various industries and applications. Contact a Tsubaki representative to find out how we can tailor our solutions to meet your individual needs.
■ Select Your Application
Raw material: Pig iron manufacturing
Apron and Pan Conveyor Chains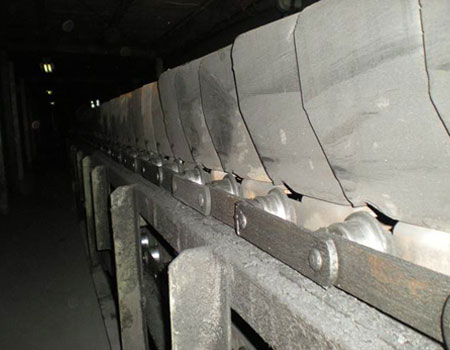 Used to convey abrasive items
Can convey even at steep inclines
Prevents items from falling
Apron Feeder Chain
Used to convey bulk items
Can convey fixed quantities
Can handle a variety of conveyed items
Scraper and Flight Conveyor Chains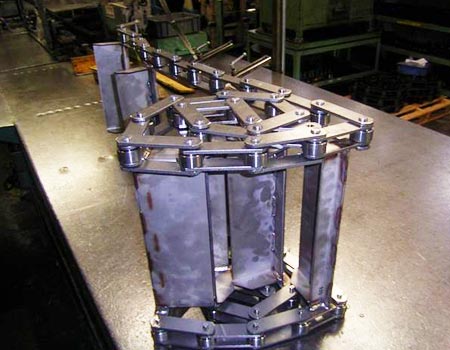 Used to convey abrasive items
Used to convey bulk items horizontally or at an incline
Can select from a variety of chain series to match your conveyed material
Flow Conveyor Chain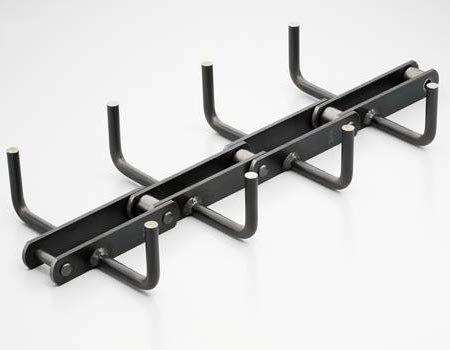 Used to convey bulk items horizontally or at an incline
Can select from a variety of attachments to match your conveyed material
Can select from a variety of chain series to match your conveyed material
Bucket Elevator Conveyor Chain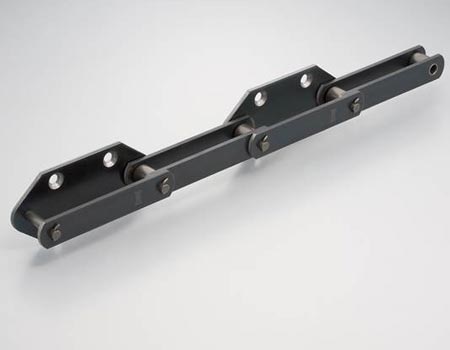 Used to convey bulk items vertically or at an incline
Can convey up even steep inclines
Prevents conveyed items from falling
Heavy Duty Chain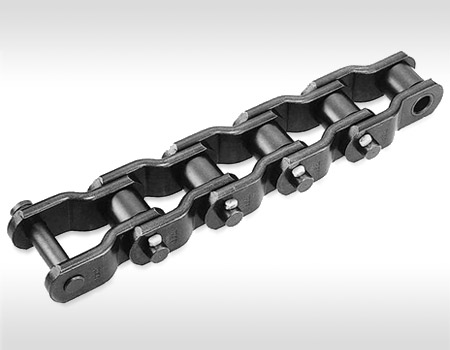 Allows for compact designs
High tensile strength
High impact resistance
Reclaimer Chain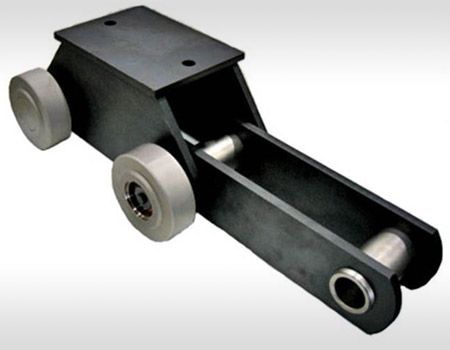 Uses the perfect seal structure to match your operating conditions
For conveying highly abrasive or corrosive items
Allows for design freedom to match your equipment
Unloader chain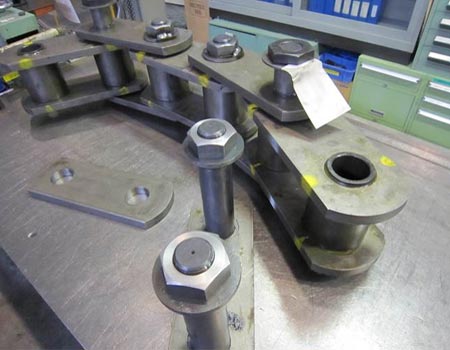 Allows for highly efficient unloading
No running costs incurred
Allows for a compact design
Steelmaking: Hot/cold rolling
Pusher (Dog) Conveyor Chain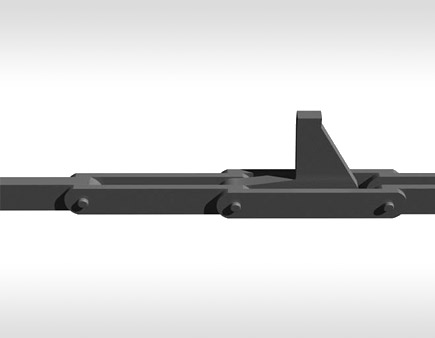 Comes with attachments for pushing conveyed items
Dogs with rollers also available
Tilting and ducking dogs also available
Heavy Duty Chain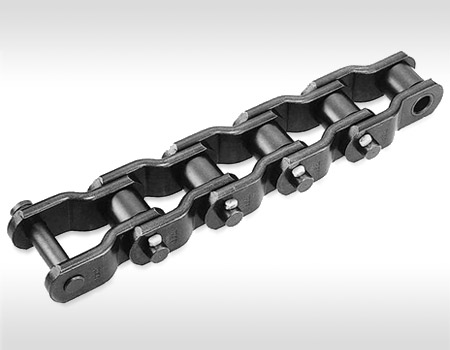 Allows for compact designs
High tensile strength
High impact resistance
Dummy Bar Receiver Chain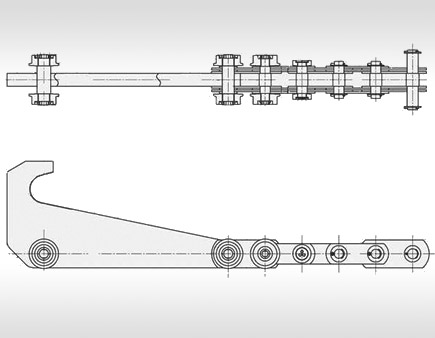 High precision assembly for accurate drive
Design allows for compact storage
Reliable, with years of experience and success behind it
Dummy Bar Chain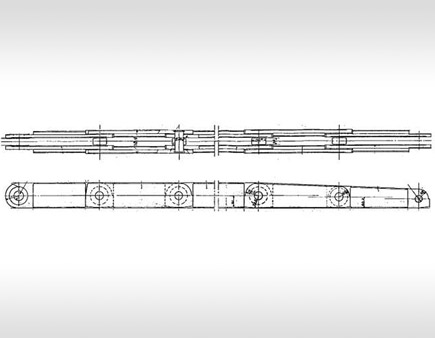 Highly impact resistant
Users can select the optimal material and heat treatment for their application
Allows for design freedom to match your equipment
Dummy Bar Car Chain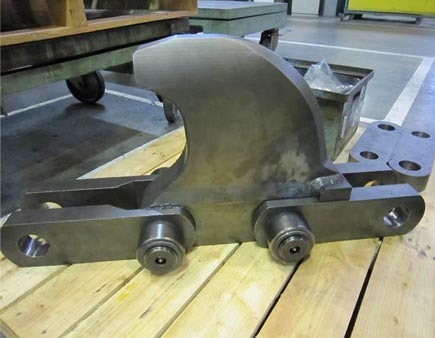 High precision assembly for accurate drive
Design allows for compact storage
Reliable, with years of experience and success behind it
Deep Link Conveyor Chain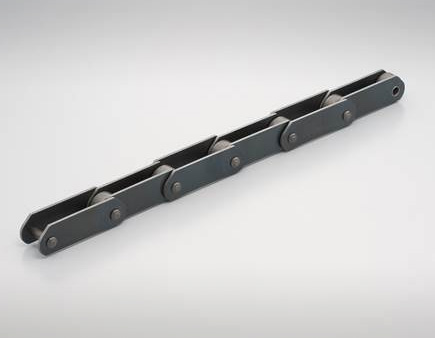 Large rollers for direct conveyance on the plates
Can use bearing rollers
Top plates also available
Block Chain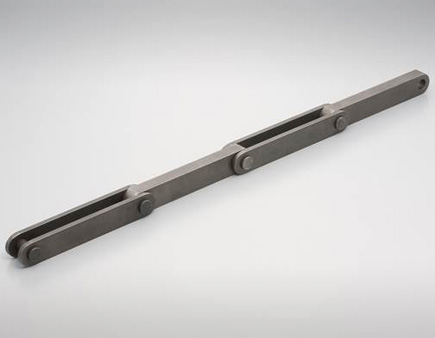 Simple yet tough
Features an unsurpassed tough construction
Tensile strength is high in relation to chain weight
Top Plate and Saddle Conveyor Chain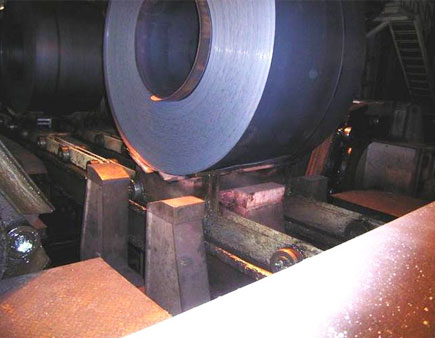 For continuous conveyance of hot, high temperature items
Continuous operation means high efficiency conveyance
Designed to match the shape of your conveyed items
Manufacturing: Steel pipes
Pusher (Dog) Conveyor Chain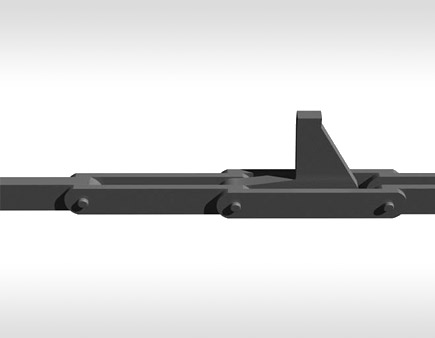 Comes with attachments for pushing conveyed items
Dogs with rollers also available
Tilting and ducking dogs also available
Draw Bench Chain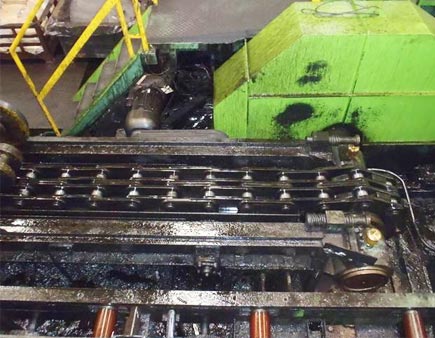 For high speed drives
Optimal design based on years of experience and success
Highly impact resistant
Bar Inserter and Stripper Chains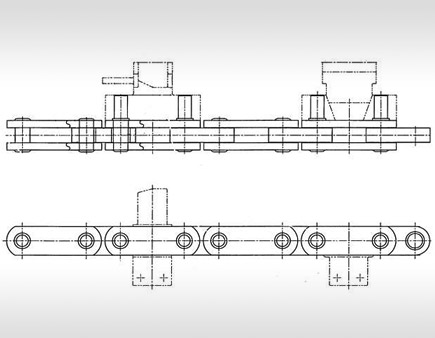 For high speed drives
High precision assembly
Highly impact resistant
Bearing Roller Conveyor Chain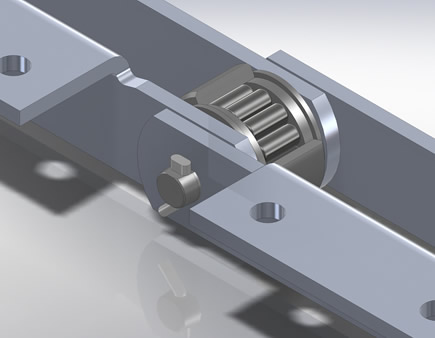 Reduces chain load and required horsepower while increasing wear life
Prevents stick-slip, greatly increases roller allowable load
Extensive line-up to match any operating environment
Free Flow Conveyor Chain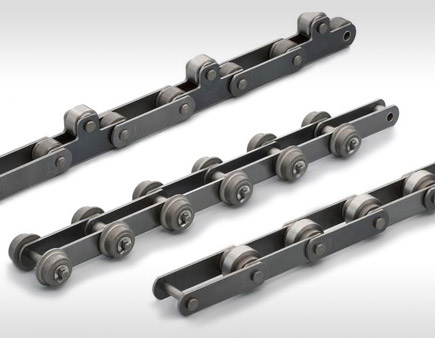 Allows for conveyance and accumulation
Conveys items using top or outboard rollers
Double Plus Series also available
Deep Link Conveyor Chain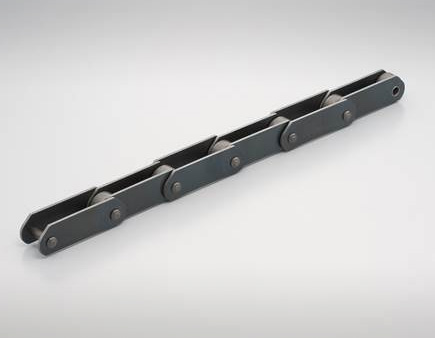 Large rollers for direct conveyance on the plates
Can use bearing rollers
Top plates also available
Block Chain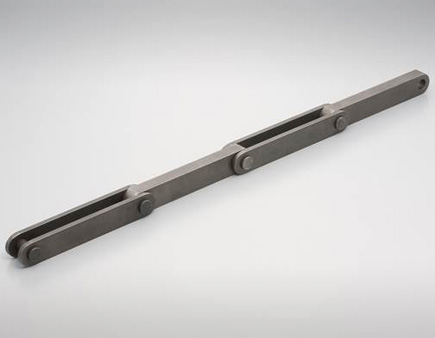 Simple yet tough
Features an unsurpassed tough construction
Tensile strength is high in relation to chain weight
Top Plate and Saddle Conveyor Chains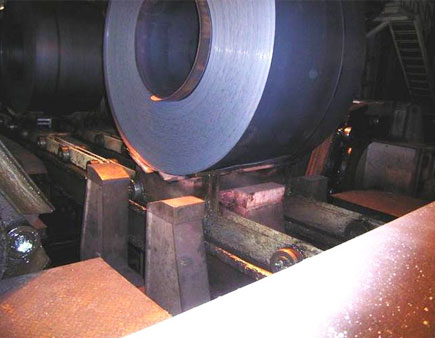 For continuous conveyance of heavy, high temperature items
Continuous operation means high efficiency conveyance
Designed to match the shape of your conveyed items