Tsubaki AP Apron Conveyor
Conveyors in Eco-related Industries
Suitable for conveying crushed garbage and waste plastics.
Tsubaki AP Apron Conveyor handles materials such as crushed garbage on a horizontal or inclined layout.
Features and Conveying Capacity -- AP Apron Conveyor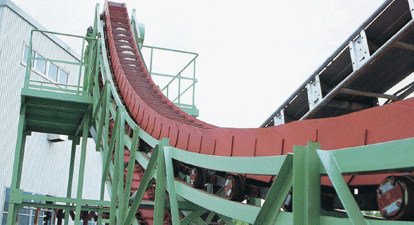 Its sealed structure prevents odors and garbage juice from leaking from the casing.
Corrosion-resistant conveyor chains and aprons are available as an option.
Specifications that prevent poor articulation of the conveyor chains are also available as an option.
Conveying capacity
Model number
Conveying capacity(m

3

/h)
S = 5m/min
S = 10m/min
AP600
15
30
AP800
20
40
AP010
25
50
Note 1: The above table shows conveying capacity calculated at a tilt angle of 55°. The actual conveying capacity differs depending on the tilt angle of the apron conveyors or the nature of the conveyed materials.
Note 2: The capacities in this table are for when there is continuous and constant feeding.
Layouts

Dimensions and Model Numbers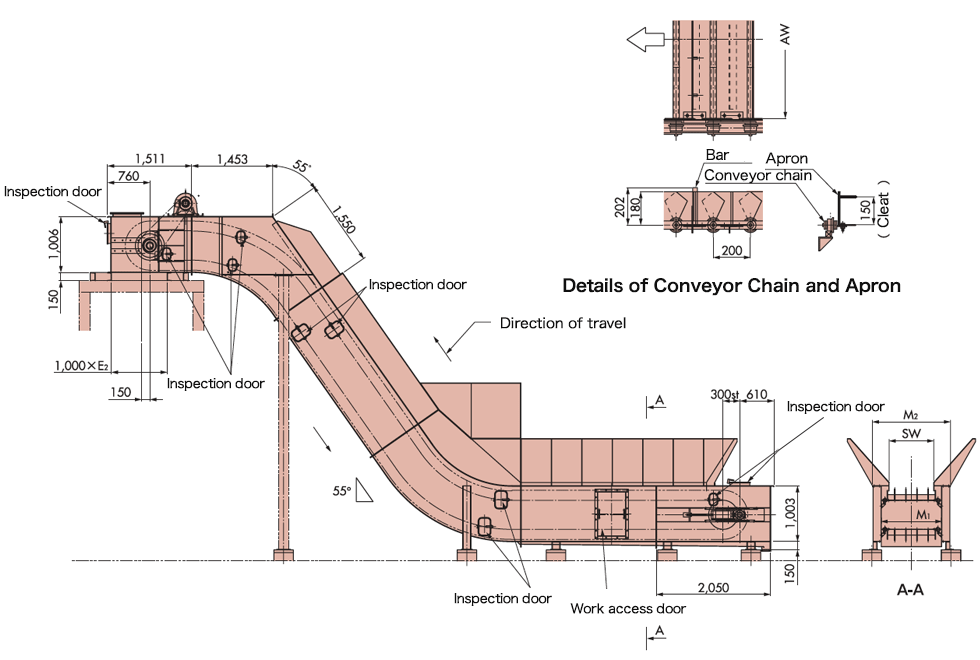 Model number
Apron
Horizontal casing
Outlet
AW
SW
M1
M2
E2
AP600
600
550
830
1,150
830
AP800
800
750
1,030
1,350
1,030
AP010
1,000
950
1,230
1,550
1,230
Points of caution
Tsubaki will determine the hopper specification after meeting with the customer. Contact a Tsubaki representative for more details.
Click here for inquiries regarding Tsubaki's conveyors in eco-related industries.
Email inquiries
Catalog requests