Tsubaki NAB400J Aprovator
Conveyors in Eco-related Industries
Enables lightweight design and inexpensive pricing thanks to its plastic rollers.
Tsubaki NAB400J Aprovator uses energy-saving buckets that are lightweight and inexpensive. They're effective for corrosion/adhesion resistance.
Features -- NAB400J Aprovator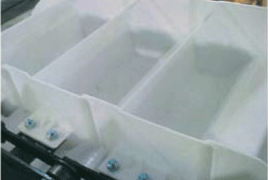 Lightweight and easy to handle. One quarter the weight of Aprovators made of steel (in-house comparison).
Plastic provides superb corrosion resistance.
Less adhesive than other Aprovators made of steel -- the NAB400J Aprovator is a resin molded product and its corners are curved.
Buckets are always in stock.
Compatible with any NAB400 Aprovator currently in use.
Bucket Material: Polyacetal (Duracon)
Maintains a proper balance of various mechanical characteristics such as tensile and impact strength.
Has excellent fatigue resistance and maintains stable performance.
Has excellent slidability for extended periods thanks to its superb wear resistance.
Points of caution
Only NAB400 Series is available.
Cannot handle high-temperature conveyed material.
Contact a Tsubaki representative for the feasibility of adopting this product.
Click here for inquiries regarding Tsubaki's conveyors in eco-related industries.
Email inquiries
Catalog requests