Tsubaki NBK Bucket Elevator (designed for palm kernel shell conveyance)
Conveyors in Eco-related Industries
The most compact belt-type bucket elevator with high capacity.
The NBK Bucket Elevator is a belt-type bucket elevator designed for palm kernel shell conveyance, and features a compact design that can convey a large amount of material.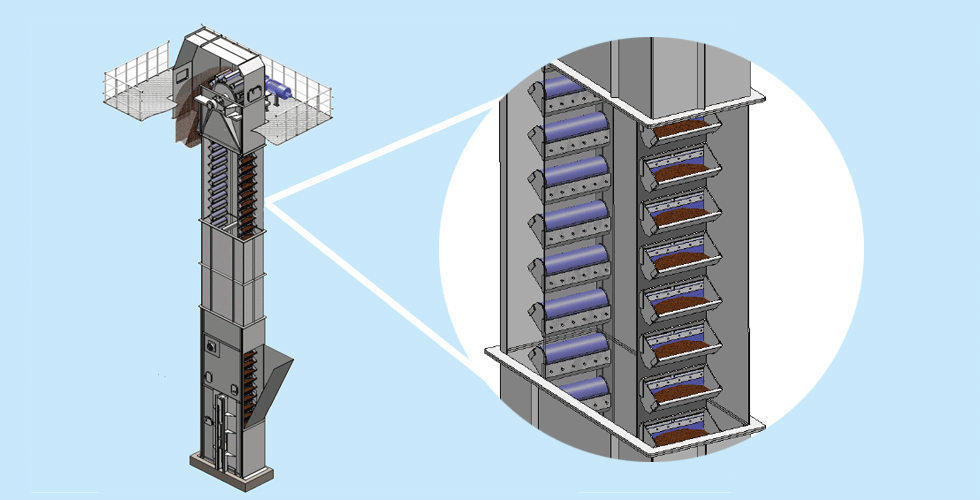 Features and Conveying Capacity -- NBK Bucket Elevator
Features a compact design and high-capacity conveyance

This belt-type bucket elevator is very economical as it can convey a large amount of material compactly and at high speeds. In addition, it's lighter than chain types.

Minimal belt elongation for less maintenance time and costs.

This bucket elevator realizes minimal belt elongation and easy maintenance by using special belts. Conveyed material does not adhere to the belts, and belt operation is quieter than chain types because there is no chain engagement noise.

Thorough safety measures

A wide variety of options are available: Shock Relay overload protectors, Cam Clutch backstops, Speed Switch deceleration detectors, Touch Switch belt misalignment detectors, bearing temperature sensors, etc.

Easy maintenance option

In addition to RS Chain drives, users can also select reducer direct connection drives. These drives eliminate the complex maintenance seen on RS Chain drives and keep the drive area clean.
In addition, inching devices are also available. This device reduces the speed during maintenance to 1/10 - 1/15 compared to normal conveying speeds, which allows for easy inspection of conveyor chains and buckets.

Clean Boots [Patented]

Clean Boots that can greatly reduce the amount of residual conveyed material in tail sections are available (optional).
Click here for inquiries regarding Tsubaki's conveyors in eco-related industries.
Email inquiries
Catalog requests