Newspaper handling systems
AGV MARK II
The Tsubaki Roll paper feeding AGV is an automatic roll paper feeding system designed for use mainly in newspaper printing factories. This advanced system can be installed in a new factory or added as an upgrade to existing plants.
Features
Light, compact design saves space;
Auto roll-handling function handles loading and unloading of paper webs or residual cores.
Fast running that provides high performance with fewer vehicles.
Magnetic tape induction method provides simple installation as well as easy modification and expansion of existing routes.
Paper webs can be transferred while rolling out from the existing inclined roll storage yard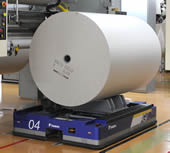 ADS
ADS is a ground breaking, unmanned conveyance system for roll paper feeding. This system is ideal for use in both existing newspaper printing factories and newly constructed plants.
Features
Trackless, requiring no rails or guides.
A pit-less system that eliminates the need for foundation work.
Wireless communication that eliminates the need for sensors or cables.
The shorter construction schedule enabled many existing plants to continue operation during the system transition.